Summer camp brings back memories of fun in the sun, a time of firsts, and a home away from home. This wedding channeled those very elements to recreate the welcoming feeling of sleepaway camp but elevated with a ton of personality and subtle artistic touches.
Back in 2012, Ali, a contemporary women's designer, was searching for "the one" through Los Angeles' online dating pool; a hunt that proved to be exhausting and unfruitful. Fate certainly had a hand, at a baby shower no less, where Ali randomly befriended the only other single, baby-less girl there. That friend ended up introducing Ali to Mike, an executive producer at a production company. "She reached out to Mike and said she had 'the one' for him and that he could 'thank her at the wedding'," the bride says. "Needless to say, we made sure to do so."
That blind date was the start of this duo's love story. Three years later, over Labor Day weekend at Mike's family's lake house in Minnesota, he popped the question. "Mike and I were down on the dock trying our best to catch a fish for dinner. I didn't catch any fish but I did catch my breath when he handed me a ring in lieu of a fishing weight!" Ali recalls.
As both Ali and Mike also grew up around lakes, a waterfront wedding seemed like a great fit in Lake Tahoe, which Ali's family deems a home-away-from-home. "It is the one place on earth where I feel the most at home, at peace, and the closest to my late father whose ashes are scattered in the lake," she says of the locale. When the wedding planning started, the couple initially didn't intend to have a theme. However, "Camp Wiggehaha" came about while they were planning their save-the-date video and stumbled upon funny old camp promo videos on YouTube. From then on, a full-fledged summer camp style wedding, featuring neutrals and touches of blues and greens, was born. Carousel Estate, a private home on the shore of Lake Tahoe, was where it was all brought to life, on June 18, 2016, with 170 family members and friends partaking in the fun, memorable celebration.
A huge thank you to Martha Stewart Weddings for featuring this stunning Lake Tahoe Wedding and all our Tahoe Unveiled vendors.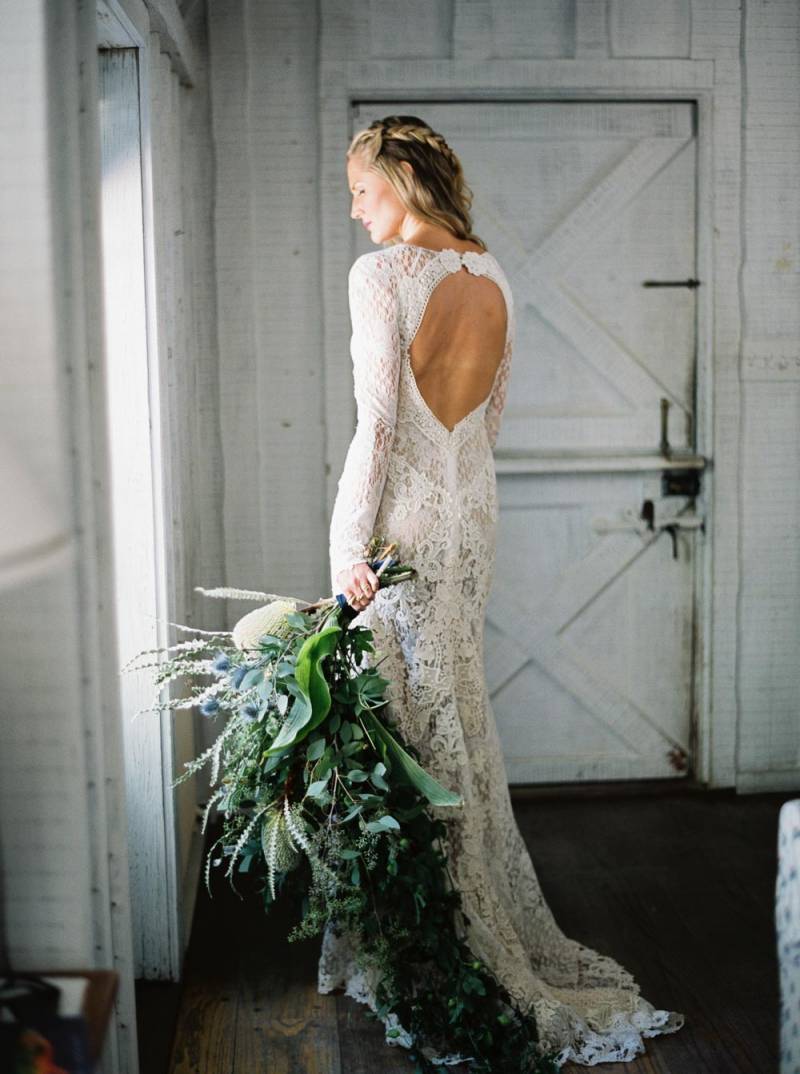 The Bridal Bouquet. Ali worked with her high school friend, florist Natasha Kolenko, to create a bouquet that would capture her personality: slightly edgy, classic yet unconventional. The result: a stunning, wildflower-esque 13-pound cascading bouquet of eucalyptus, protea, banksia, and passionflower.
The Rings. Unlike her wedding dress, it was a priority for Ali to design her own engagement ring and the couple's wedding bands. Aside from her emerald cut engagement ring, she also wore bands given to her by her mother and late maternal and paternal grandmothers.
The Hair. The bride nixed a traditional veil and accented her braids with a gold Jennifer Behr hairpiece, the perfect complement to the delicate lace and bohemian feel of her gown.
The Location. Both Ali and Mike grew up going to summer camp and are self-proclaimed Wet Hot American Summer fanatics, so it seemed fitting to go with a camp theme. The name "Wiggehaha" was a tongue-in-cheek blend of the couple's last names and a play on Minnehaha, a Minneapolis locale.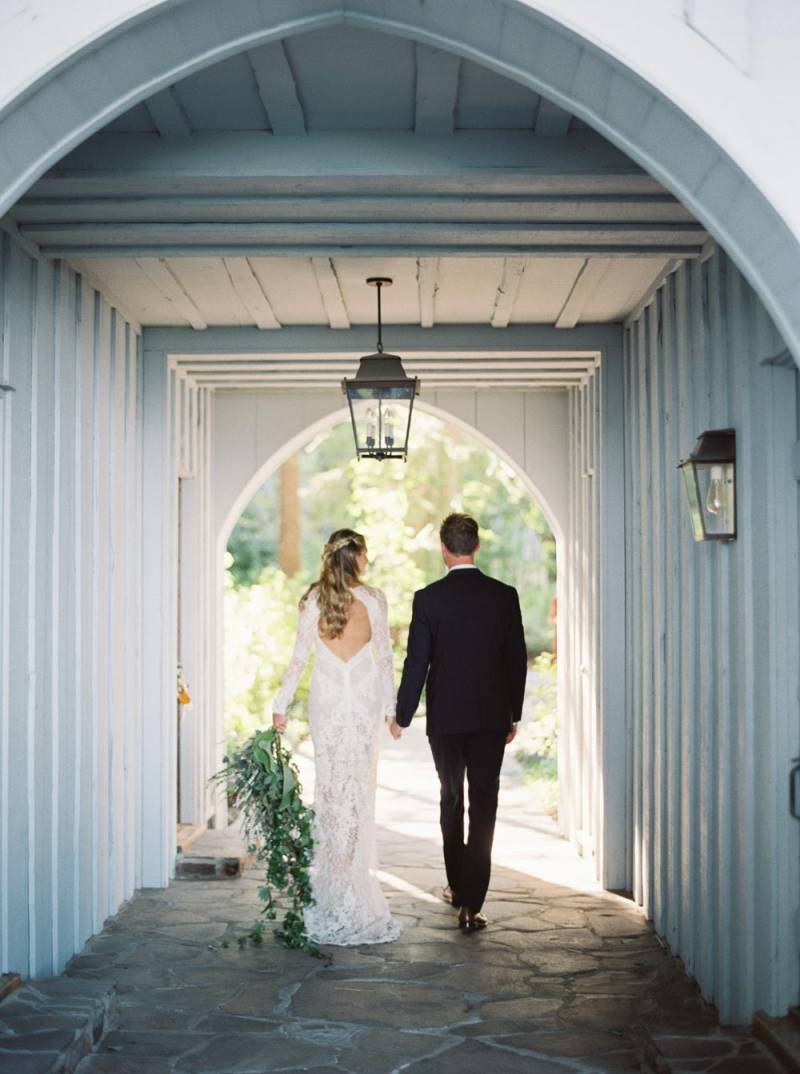 The Escort Cards. A close family friend constructed the structure and "Camp Wiggehaha" sign that doubled as the couple's escort card display that used vintage oars and camp gear belonging to the bride's family. Ali handwrote all the names on the escort tags.
The Flower People. What would a summer camp be without the kids? Mike's nieces and nephews served as the twosome's adorable flower people in their stylish Zara Kids summer ensembles, complete with floral crowns for the girls.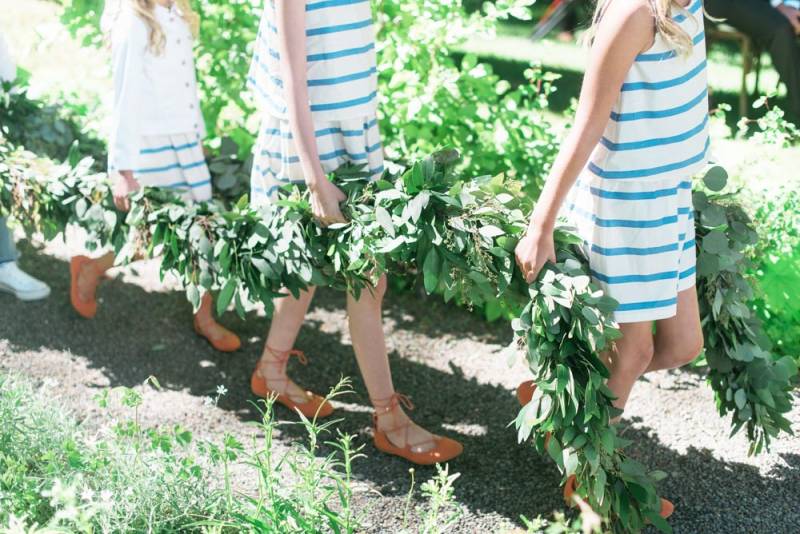 The Invitation. Rustic and homey, the watercolor invitations were painted by a pal of the couple and depicted the wedding's locale. Initially done on large picture boards (which Ali plans to frame), the paintings were printed onto individual invitations by Paper Chase. Utilizing her design chops, Ali designed the circular Camp Wiggehaha logo that served as the day's signature motif while her mother penned the calligraphy on the envelopes.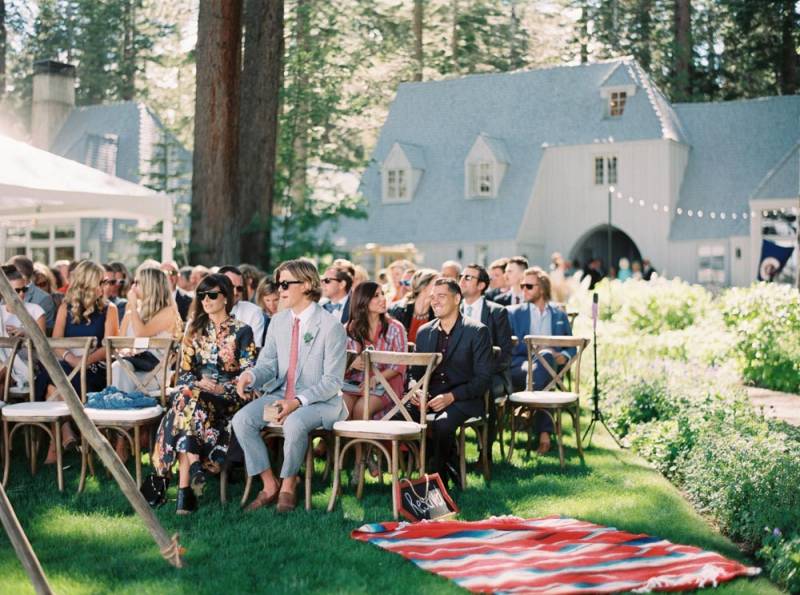 The TeePee. Going all out with the camp theme, it only felt natural to have a teepee as a makeshift altar. Ali's mother sourced the sticks from a local carpenter and the teepee was constructed, overlooking Lake Tahoe and dressed up with eucalyptus and banksia.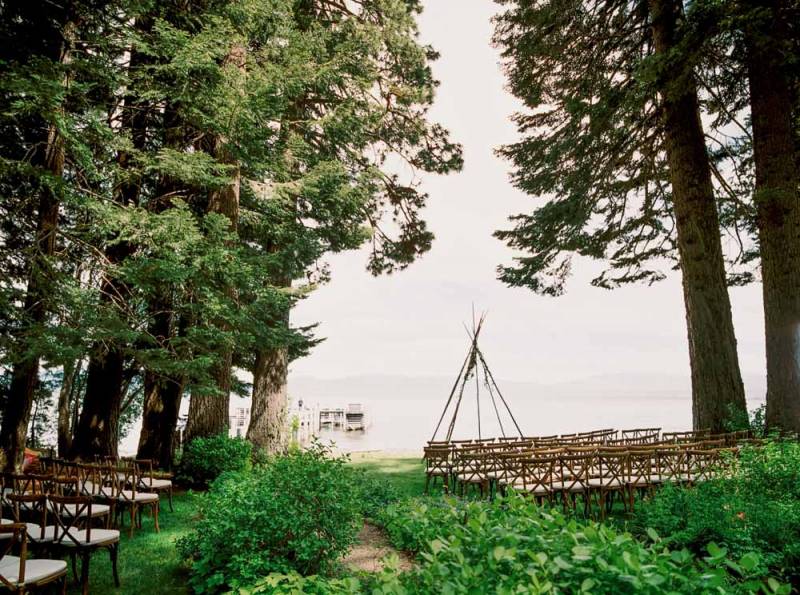 The Ceremony. Keeping it within the family, Ali and Mike were married by the groom's father, who is an ordained minister, while Ali's cousin and Mike's sister also gave readings during the ceremony. The groom's favorite part of the day: "Hearing my wife's vows, which confirmed the fact that I was in the process of marrying the sharpest, funniest, best woman I'd ever met."
Prior to the start of the service, the playful newlyweds actually placed mini whoopee cushions, aptly labeled "Whoopee for Ali & Mike!" under the seat cushions! Guests were certainly surprised and laughter started off the happy occasion.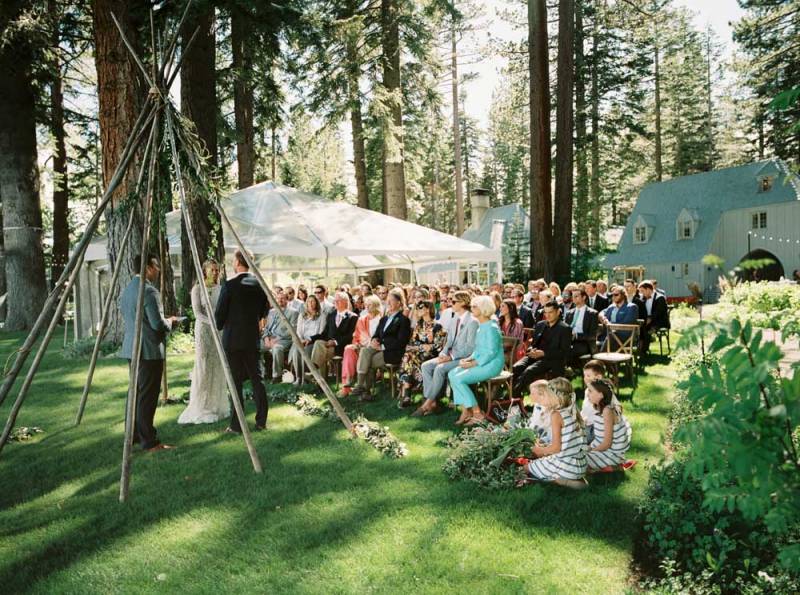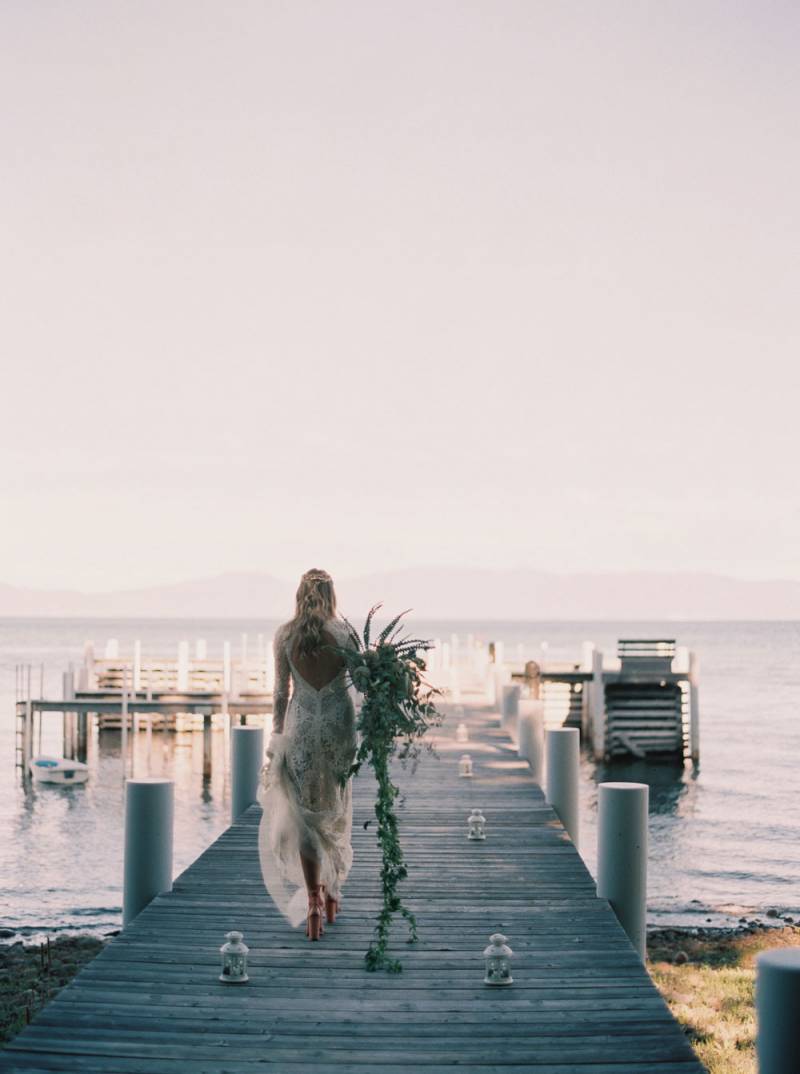 The Favors. As a thank-you and to keep guests toasty as night fell, a navy sweatshirt that bore the day's embroidered logo was placed on every seat. The favors also creatively helped with assigned seating as each sweatshirt was tied with a tag with the guest's names on it.



Wedding Style. With the "Lady of the Lake" as inspiration, Ali searched for a gown that mimicked her etherealness, looking for something long-sleeve and lacey, that could possibly be a future heirloom. After trying on multiple dresses in bridal stores, she finally found her Yolan Cris number online. She jetted down to Love & Lace Bridal Salon to try it on and had it tailored on the spot. "As a designer, I had many people ask me why I wasn't designing my own dress," Ali says. "For me, there are just so many incredible bridal designers who design these dresses with the utmost compassion and skill--why try and challenge that?" She finished her look with strappy, coral M.Gemi shoes.
Abiding by the day's "cocktail casual" dress code, Mike kept it chic in his navy Theory suit, Ferragamo loafers, and Ali's father's favorite nautical Hermès tie.
The couple posed for photos with Ali's late father's 1961 Corvette, the car he would drive up to the lake every summer. It served as Ali's "something blue".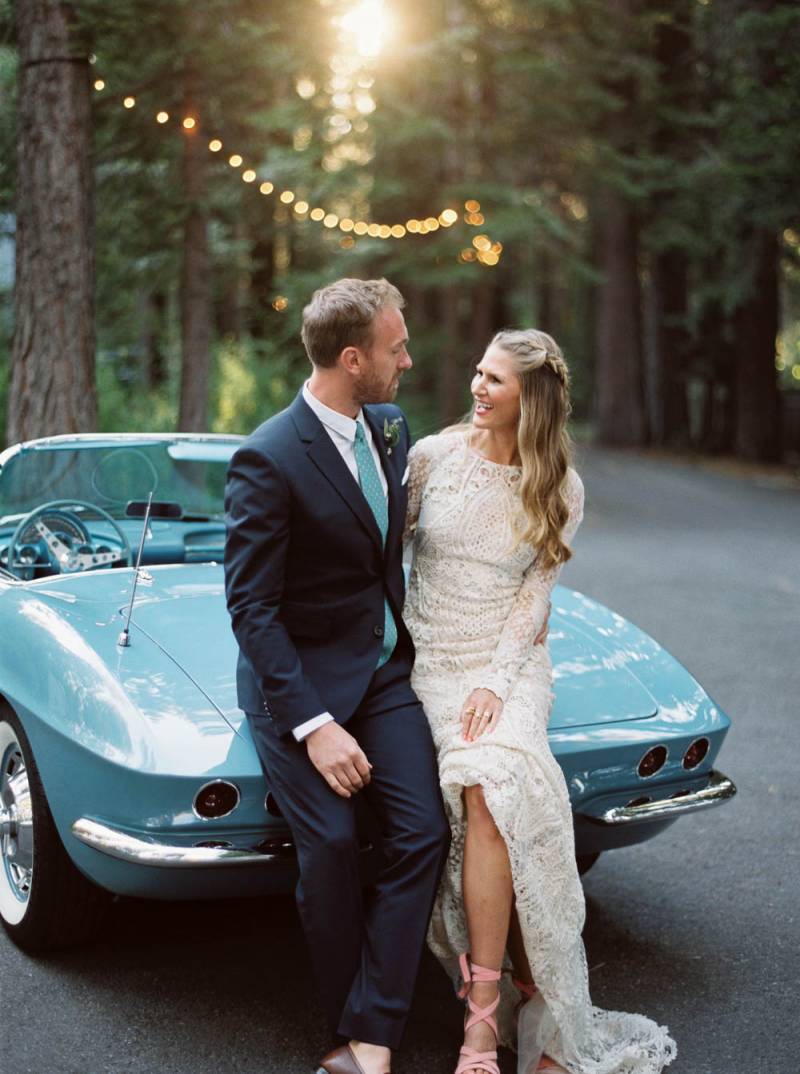 The Table Settings. The blue splattered plates, courtesy of Classic Party Rentals, acted as the pop of color while gold flatware added warmth to the tablescape. Instead of floral centerpieces, the couple chose to keep it simple with trailing foliage. Each plate also had a baguette, tied with a sprig of greenery for people to nibble on during pre-dinner speeches.