With the stunning background of Lake Tahoe, this gorgeous couple wed at West Shore Café with the help of the wedding planners and designers at Elise Events.
The moody sky, a ride on a classic wooden boat and a ceremony right on West Shore Café's pier, combined to make this wedding as close to Lake Tahoe perfection as you can get. From the tent to the floral arrangements done by B&B Designs, every inch of this wedding was beautifully thought out and executed. Captured by Gagewood Photography, check out the full wedding day below.
How they met:
"When I first laid eyes on Louis, he was dressed as an Elf. It was Santa Monica's annual Holiday Pub Crawl and we were surrounded by herds of people wearing reindeer antlers and Santa hats. Somehow, Louis and I managed to find each other on the dance floor, and from that point onward, we were inseparable.
I knew right away there was something different about my relationship with Louis. His spontaneity matched mine and we constantly uncovered similarities that we both shared. He was my soulmate, best friend, and a person I could easily see spending the rest of my life with. When Louis proposed in January of 2017, the scene couldn't have been more picturesque. He surprised me with a trip to the Grand Canyon and we hiked the same trail we had hiked a year before, but this time, there was a beautiful diamond ring presented to me at the end of the trail. We were the only two at the bottom of the massive canyon, and the red cliffs above us were decorated in snow. Louis came well prepared with a bottle of champagne and a selfie-stick since he knew no one else would be hiking the Grand Canyon during the winter. It was such a special moment and one I will always remember."
The venue:
"When it came time to search for a wedding location, Louis and I knew right away where we wanted to get married. We spent many weekends and vacation days visiting Louis' family in Lake Tahoe and it was a special destination for us both. The bright blue lake and the surrounding greenery was the perfect backdrop for our nuptials and it fit our adventurous personalities. When Louis said our future children would learn to ski in the Tahoe Mountains during the winter and learn to wake-surf on the lake in the summer, I was sold. We only looked at two wedding venues and ultimately decided on West Shore Café and Inn due to its stunning location right on the lake. The panoramic view was absolutely breathtaking and the venue was surrounded by a sea of green pine trees. The rustic elegance of West Shore Café and Inn was unlike any other venue on the lake."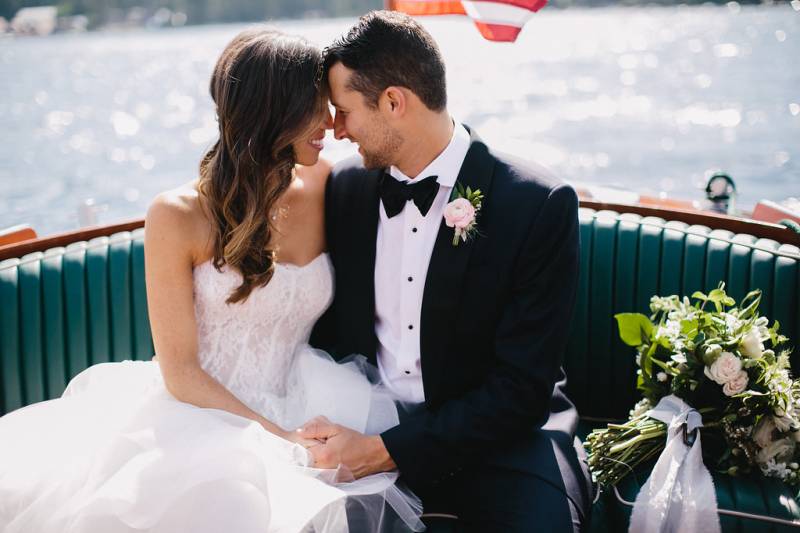 Tent details:
"The day of our wedding was coordinated with the help of our wedding planner, Danielle from Elise Events. Two days before, the weather called for 30% chance of rain, and I had lengthy conversations with Danielle on whether or not to rent a tent. Everything from the ceremony to the dancing was to be held outside and the last thing we would want is to have our guests rained on and the beautiful handmade paper menus and linens ruined. Although it didn't rain on our wedding day, we are glad we rented the tent because it created such a stunning and intimate atmosphere for all of our guests. Our florist, B and B Floral Designs, went above and beyond with her work and creativity. The hanging greenery on the tent chandeliers created an organic romance to the dining area and we were in awe over the full centerpieces that decorated each guest table. Our tent was more magical than I had ever imagined and will always be one of my favorite things of the wedding."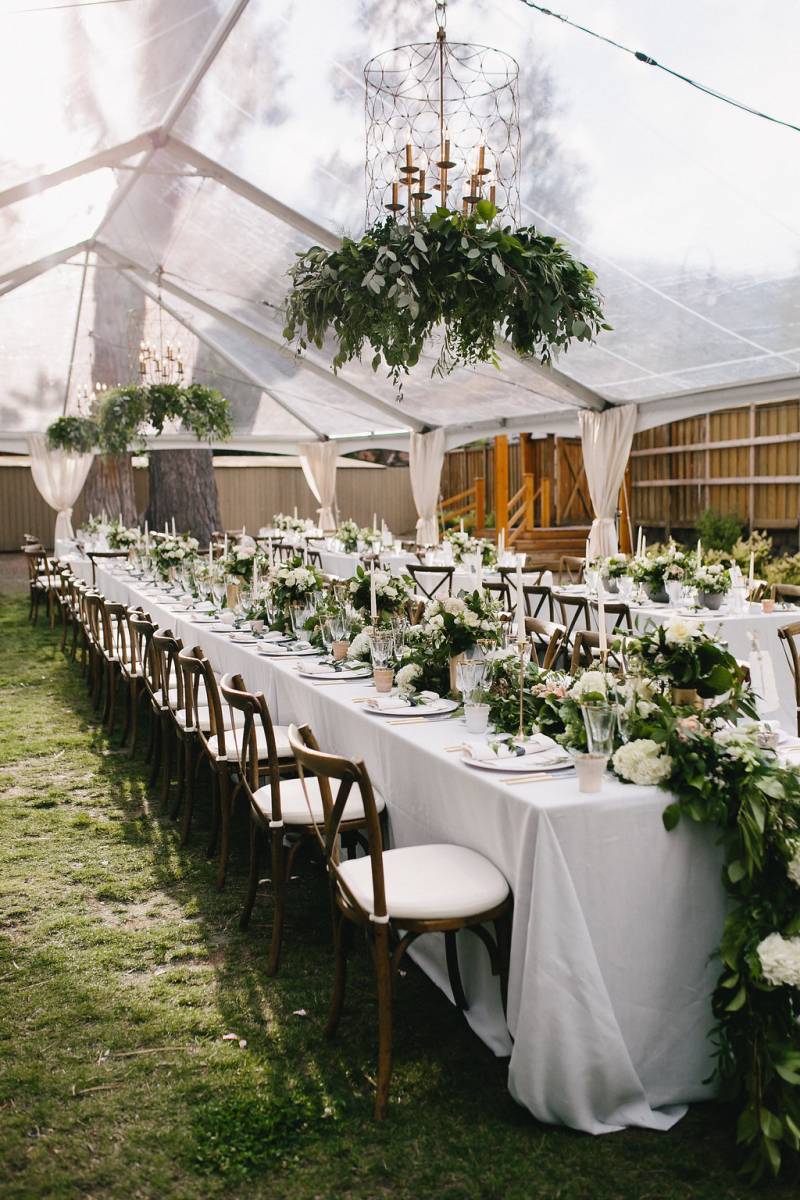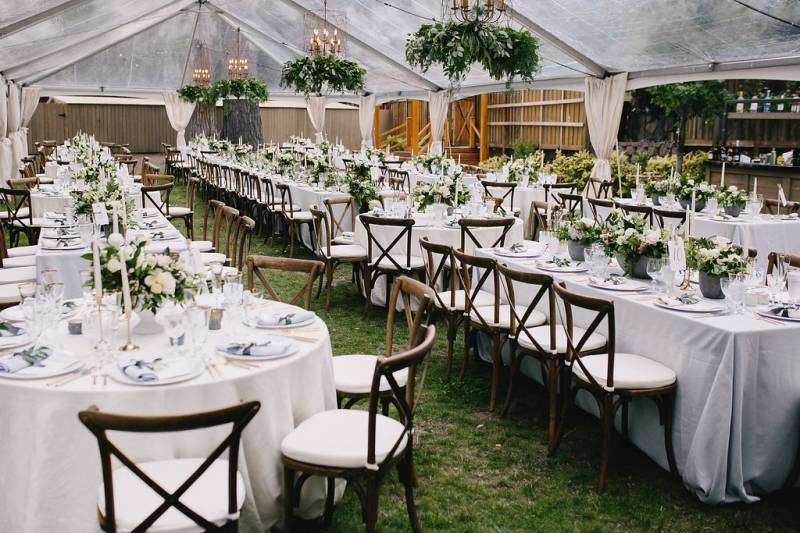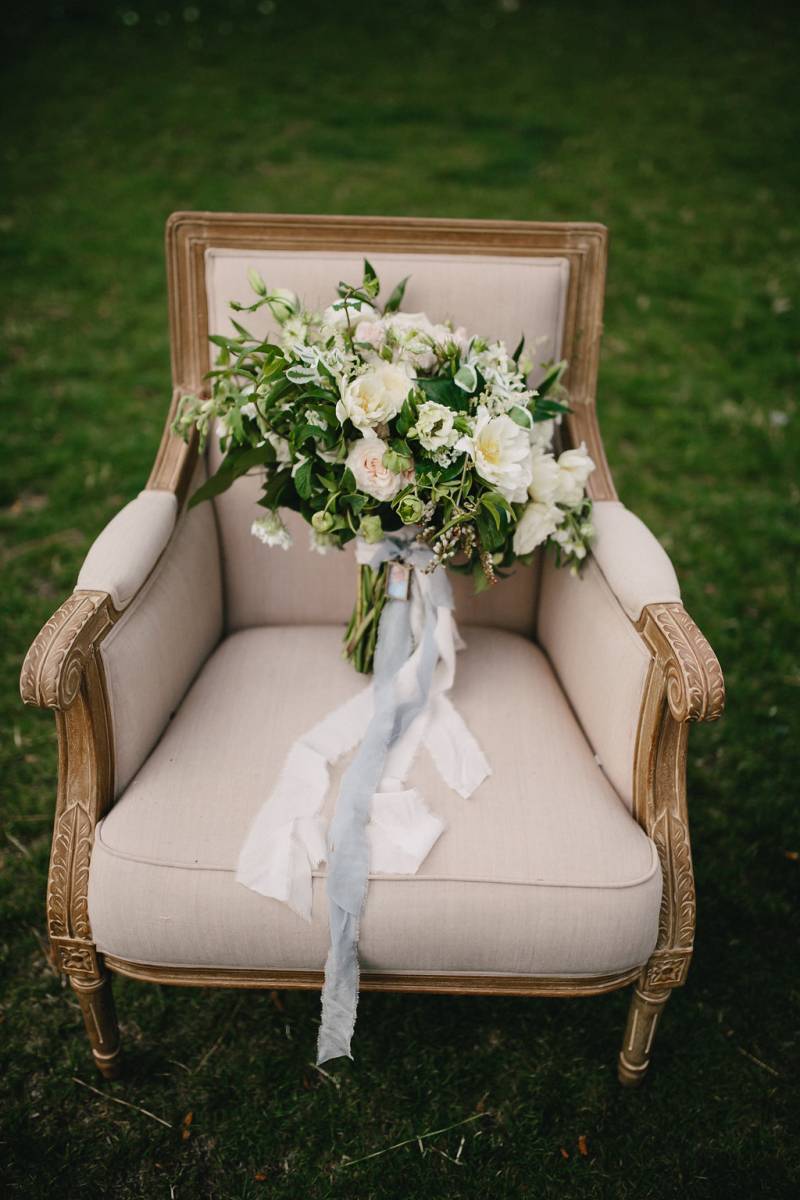 Advice for future brides:
"After the dinner, Louis and I danced all night to the incredible Lucky Devils Band while stuffing our faces with ice cream sandwiches and confetti cake. I took a moment to take in the image of our closest friends and family members who were dancing by our sides. There was so much love in the room and we couldn't be happier with how the day went. The best advice I can give to future brides is to try and take moments like this with your groom, even if it's only for a few minutes. The day goes by very fast and a year of planning is over with the snap of a finger. Don't worry about what could go wrong and live in the moment. At the end of the day, what matters most is you are marrying the man of your dreams and making a forever promise to each other. This will be a perfect day and everything will fall into place as long as you have your soulmate by your side."