With bright blooms in burnt orange and fuchsia and the rustic, elegant beauty of the West Shore Café, this summer wedding took my breath away. Add in the stunning bride and her dapper groom and I just can't get enough of Ciprian Photography's gorgeous gallery. The perfect scenery of Lake Tahoe proved the ultimate backdrop for the couple's lakefront ceremony and reception. And while guests dined on strawberry shortcake and mini pies, Tahoe Unveiled vendor, DJ Brock Weddings, had guests dancing the night away under the stars.
The bride tells the story of her wedding day below: You often hear people use the word "magical" when describing their wedding day so I hesitate to use it, but it truly describes our wedding at West Shore Café in Lake Tahoe. My husband, Justin, and I have been together for seven years so planning our long awaited event had to be just right.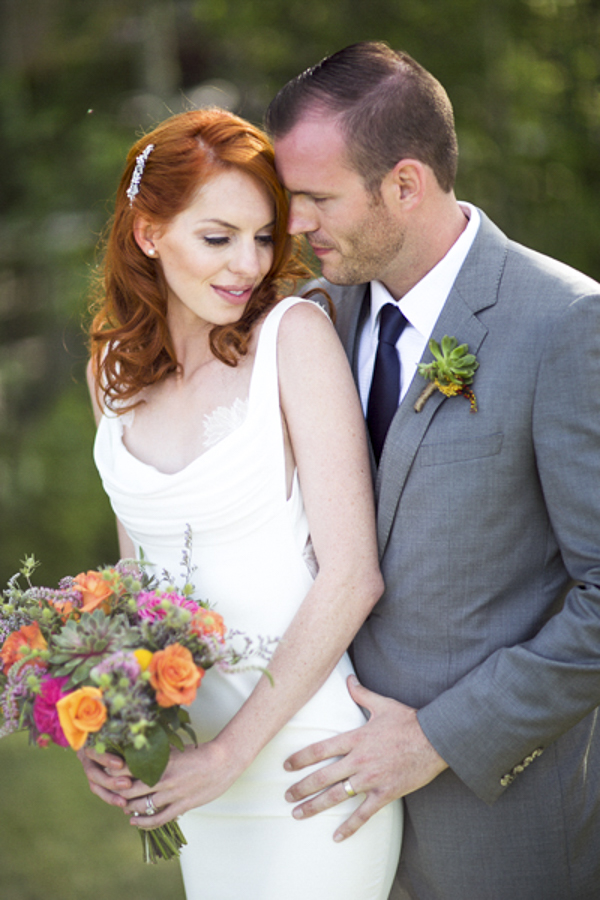 One of the first things I did before I ever even picked out the venue was secure my wedding dress. On a visit to Los Angeles I met with Katie May Bridal and fell in love with what was to become my "dream" dress. It was exactly what I wanted - elegant and timeless.
We always knew we wanted a destination wedding on the water. Lake Tahoe was the perfect location for us because not only was it on a most majestic lake, but it also incorporated the woodsy area similar to what Justin grew up with in Oregon. I researched the area and learned all about the beauty of the West Shore and fell in love with the West Shore Café all the way from Arizona. Yes, I booked this place site unseen! I was able to visit the venue in April and it exceeded my expectations. The view of the lake was breathtaking with the tall aspen trees hanging above. I could already imagine the beautiful sunset and dancing under the stars. As a teacher, I thrive on planning and creativity so I was very excited to start designing this special day.
We hired a family friend, Sandy Bernhisel, from All the Details as our wedding coordinator, and she handled all the bridal party bouquets, boutonnières, and centerpieces. She pretty much assured me that everything would be seamless, and it was. Even our officiant was handpicked, as Andy is one of our closest friends who knows us both individually and as a couple.
With such a beautiful setting, I didn't feel the need to go over the top with decorations. We decided on a pop of burnt orange and the rest of the colors to be neutrals. The burnt orange really stood out against the green grass and blue skies. I found my inspiration in all the nature that surrounded the area. I loved the idea of using an assortment of wildflowers in the bouquets and centerpieces. I used pinecones for the place cards, and wood slabs and moss for the centerpieces.
From the beginning we knew we wanted to have a very intimate wedding, as there is something about having only the people who know you best share in your special day. This intimacy makes it less of a "production" and more of a "celebration". Our 43 person guest list consisted of immediate family and friends who traveled across the US, Canada and even Australia!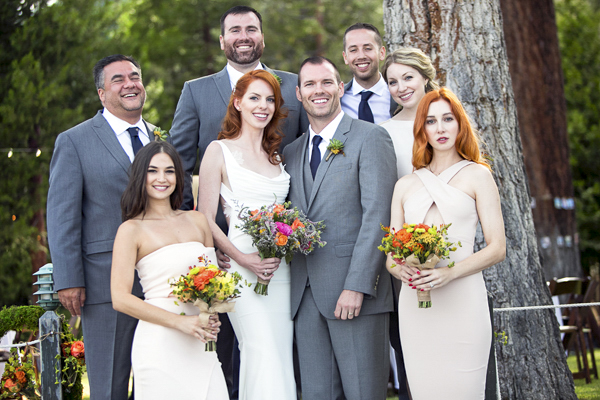 It wasn't us to go with a traditional wedding cake so we went with strawberry shortcake and three different types of mini pies with handmade flags I created myself.
The night was everything we wanted and more. After a slightly overcast day, the skies cleared and the sun came out. The ceremony brought everyone to tears, and we ended the night dancing under the stars. DJ Brock is still being talked about amongst the guests as being so much fun and entertaining.
Cirprian, our photographer captured the day perfectly, and we are still in a state of awe and gratitude as we look back at the amazing photos and relive that night. I took every bit of advice I could and I made sure to take a step back and fully be present. 1 month later if I was to give advice to future brides it would be to be patient with each other during the planning process and fully enjoy every moment of it. As wonderful as our wedding day was some of my most memorable moments were the tears I shed writing my vows and the many nights we cleared our living room floor and practiced our wedding dance. You can never count on everything turning out exactly the way you planned, and that's just what happened. It was so much better than that.
Lake Tahoe Wedding Vendors: Photographer: Ciprian Photography | Wedding Venue:West Shore Cafe and Inn | DJ: DJ Brock Weddings | Rentals: Event Masters | Hair and Makeup: Studio 89 | Rehearsal Dinner Caterer: D'lish Catering | Wedding Coordinator: All the Details