This past week, I had the pleasure of interviewing Liz Dugan, the Sales and Events Manager at PlumpJack Squaw Valley Inn. As PlumpJack is the host for Tahoe Unveiled (October 16th - mark your calendars!), I thought you all would enjoy learning a little more about the venue, the staff, and their unique style of service. Feel free to ask more questions in the comment section of this post!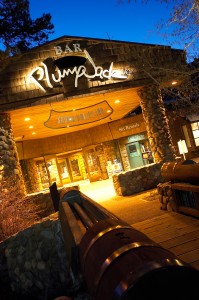 What is PlumpJack?
PlumpJack is a collection of hospitality businesses that believes in being
honest
,
approachable
, and
passionate
. PlumpJack is the moniker for Sir John Falstaff in Shakespeare's Henry IV, and has been designed to initiate his fun loving and irreverent spirit. We are fourteen businesses:
In San Francisco
: 
The PlumpJack Wine Store
on Fillmore Street, the
Matrix Fillmore
on Fillmore Street,
Jack Falstaff
,
Noe Valley Wine Store
,
the Balboa Cafe
on Fillmore street and in Mill Valley
In Napa
:
The Carneros Inn
,
FARM
and
Boonfly Cafe
as well as The Market,  
PlumpJackSport
,
The PlumpJack Winery
and
CADE Winery
In Squaw Valley:
PlumpJack Squaw Valley Inn
and
PlumpJackSport
What differentiates PlumpJack from other properties?
PlumpJack is set apart from other venues by our
unique design
and
style
. Our boutique size allows for personal attention, the feeling as if you are in your own home, with friends and family surrounding you for your wedding weekend. Guests are able to
mingle
over breakfast served every morning, or on the pool deck in the afternoon. For those interested in winter events, our proximity to the mountain allows guests to walk right across the street for
skiing
. Our location allows for easy access to the pedestrian village across the street where
shopping
, dining and other activities take place for the whole family. Most of all, the PlumpJack family
welcomes
guests to enjoy their stay, leaving the details to us!
Most memorable event?
This would have to be
Hilary Newsom
(president of
PlumpJack
) and
Geoff Callan's
wedding in April 2001. It was a beautiful day, blue sky with fresh snow blanketing the valley. Their ceremony was held at the
Queen of Snows
Catholic Church, after the ceremony Hilary and Geoff rode off on a horse pulled buggy, to return to a cocktail reception followed by a plated dinner and Angel food wedding cake! Or maybe it was last April, where the bride and groom were married at 10am in the morning, skied all day with their guests, the bride wearing a
custom white ski dress
and the groom in a custom made
tuxedo ski suit
. After the day of skiing, everyone returned to PlumpJack for cocktails, dinner and dancing. It was truly an exceptional day, unique to the couple and their family and friends.