Hey Tahoe Unveiled readers, it's Jenelle here from Tahoe Rustic Rentals and today I'm sharing our favorite tips for setting up your own cocktail bar, be it for your home or wedding!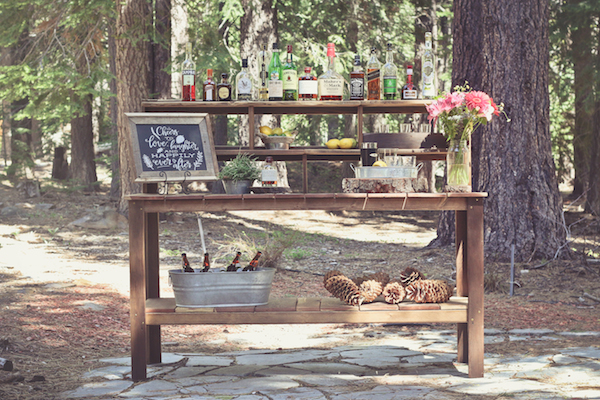 One of our most popular rental items is our 6 foot long, reclaimed wood bar. It is a very simple design which allows it to be used and styled in so many ways. We have had folks use it as a brunch buffet, dessert bar, favor stand and of course as a beverage bar! My boyfriend is a cocktail aficionado and is known to for creating a signature drink to match the meals I dream up in the kitchen. So, we wasted no time in deciding to dress up our bar in preparation for a summertime backyard bash with a little help from local Christina Milke Photography.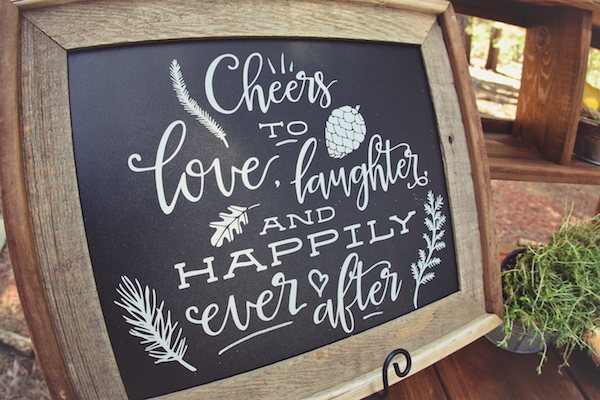 Use Shelving Wisely. The most important part for us is a beautiful looking bar, it seriously sets the scene for your cocktail creations. One of the best features of our bar is all of the shelves! These come in handy if you are planning to use your bar for beverage service. We recommend filling the shelves with all of the glasses, tools and bottles you may need within reach. If you have a more traditional bar, this is the perfect piece to use in conjunction. Just stick behind it and keep stocked with all of your different glassware.
Showcase Colorful Ingredients. Our favorite drink to make at home is a Whiskey Sour with lemon and thyme. Lucky for us, fresh thyme plants, lemons, and limes add beautiful texture and color to our bar scene.. Use your ingredients as decor! Liquor bottles add great color and shapes and should also be highlighted. Drink flags, straws, and skewers get you bonus points!
Elevate. We rent different trays, log slabs, crates and tubs that can help separate the bar into zones to keep you organized! Different trays and log slabs help to enhance and showcase what you want people to see. No need for too much clutter! Metal tubs do an excellent job keeping different beverages cold and separate and can be refilled as needed.
Use Signage. Themed bars and events can really benefit from some signage. Not only do they help set the tone, they can be great for showing your guests where they should be (and in the case of cocktails, where all the fun is). We love our custom set of mountain-inspired chalkboard signs from Do Well Signs in Reno!
Keep Essentials on Hand. You don't have to break the bank when setting up your bar but it does help to have some essentials stocked. We always keep Vodka, Whiskey, Tequila, Rum and Gin on hand as well as plenty of citrus! We LOVE St. Germain, an elderflower liqueur that adds just a touch of sweetness. And we are always reaching for Angostura Bitters, ginger ale and homemade simple syrup.