This backyard Tahoe City wedding had a beautiful woodsy setting but an even more magical love story, as told by the bride below. The couple was able to take a modest budget and create a beautifully intimate day. The decor was a collaborative DIY effort and the bride chose only to include her children in her bridal party. Photographer
Sara Weir Photography
was able to perfectly capture the elegant simplicity the bride strived for through whites and neutral colors coupled with simple lines and the beauty of the great outdoors. The bride tells the tale of her wedding below: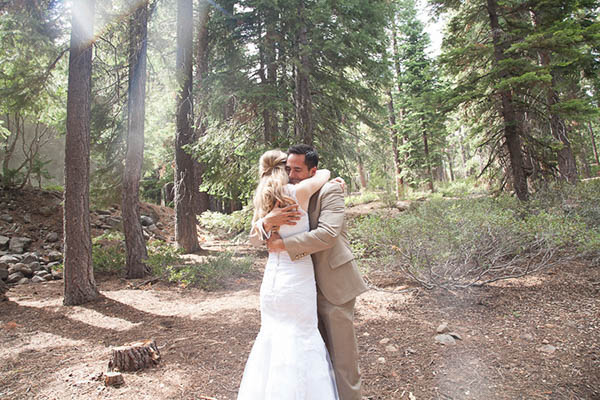 Like every bride who's made the decision to marry outdoors, I had been glued to the 10-day forecast in Tahoe City, concerned for rain--but waking up in Tahoe City on the morning of wedding, I knew I had nothing to be concerned about. It was a fantastically beautiful day: it was pleasantly warm with a sweet breeze, an ideal set up for a much anticipated occasion.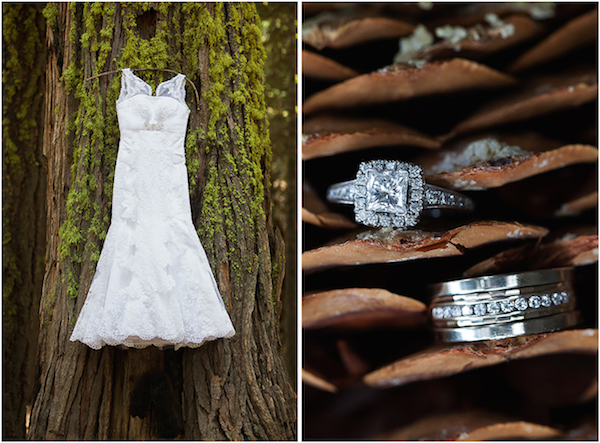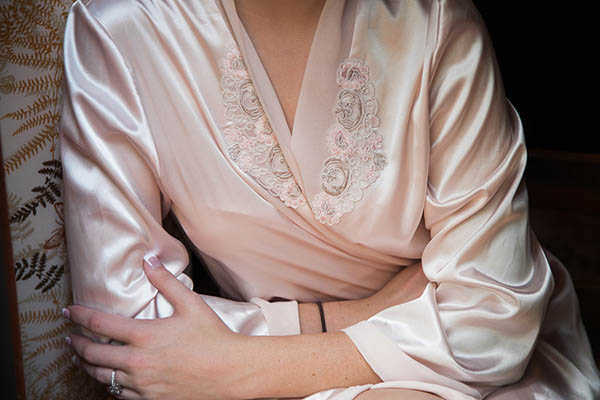 After getting the majority of the decor arrangements settled, I stepped into bride mode and began to get ready for the day. I remember an air of excitement as I moved through my beauty regimen, my unofficial wedding party (I opted to include my children in the wedding party, but my best friends were honorary bridesmaids) paused for a time to read a gorgeous heart-felt message from my groom that brought tears to all of our eyes. The message could be summed up as him feeling blessed by God and our angels to have the opportunity to find real, meaningful, amazing love. It was touching and kind and set the perfect mood the rest of my day.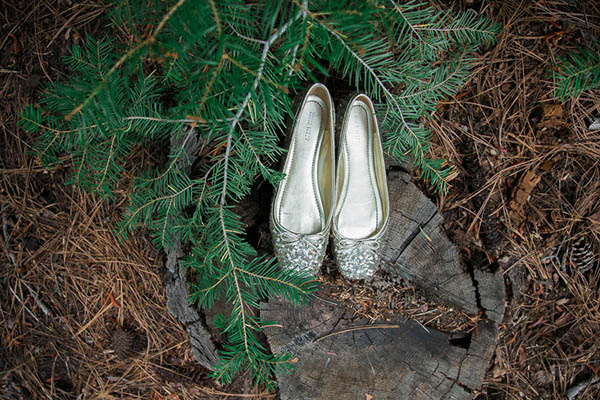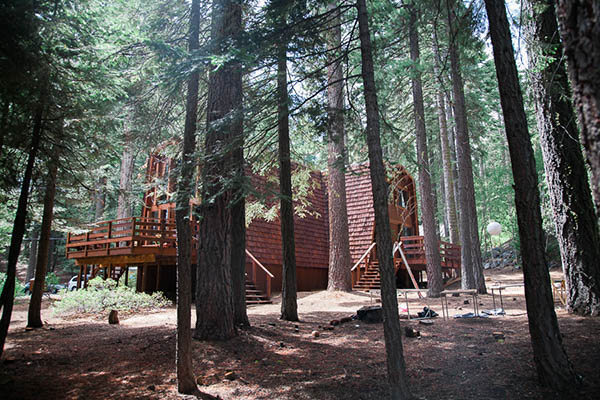 Justin and I decided that we wanted to capture the moment when we saw each other that day, keeping it intimate between the two of us (and our amazing photographer) before the ceremony. Approaching him was thrilling, and getting those intimate moments together before we joined our lives was so precious to me.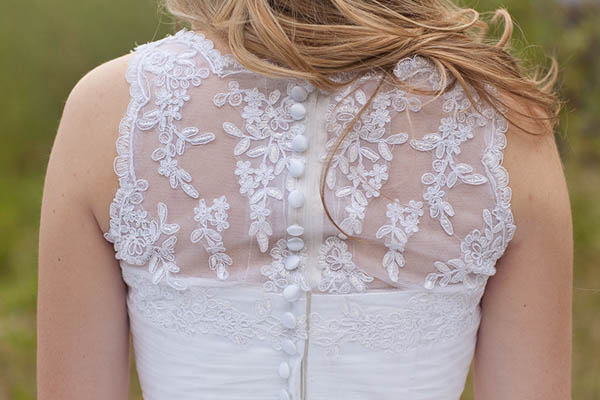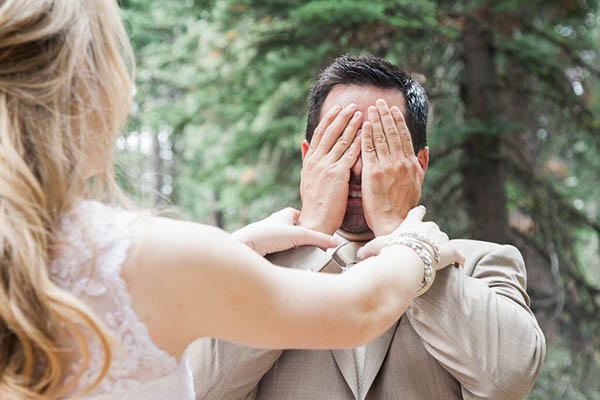 The ceremony was brief and heartfelt, with special momentous of lost loved ones displayed front and center among our guests as well as attached to my bouquet.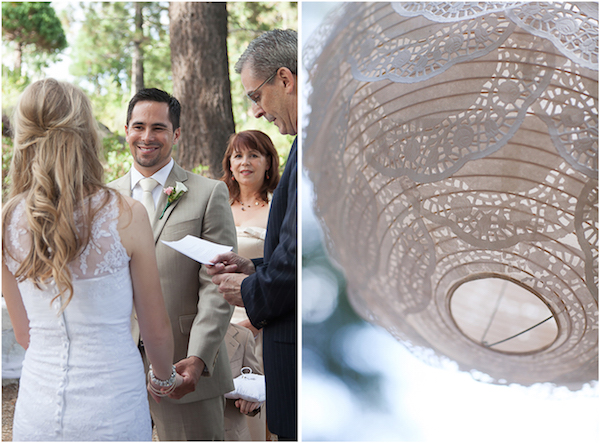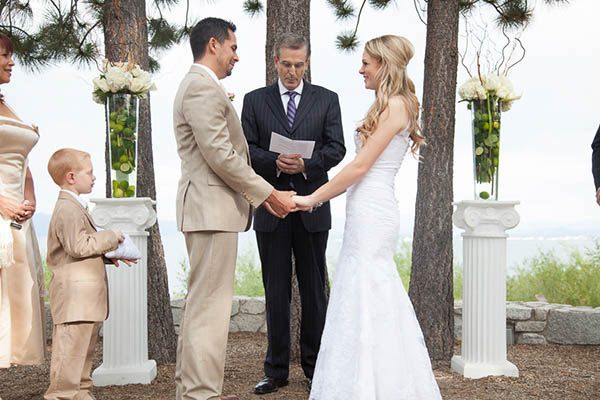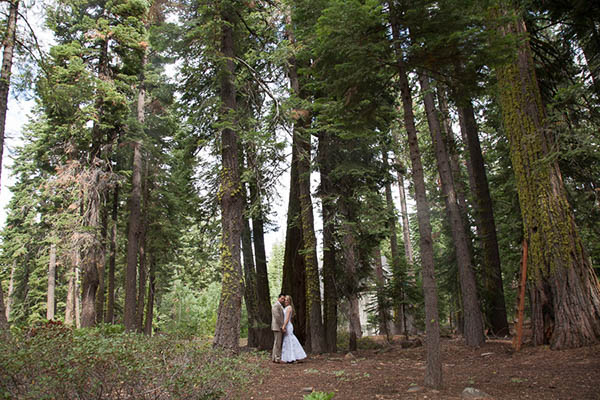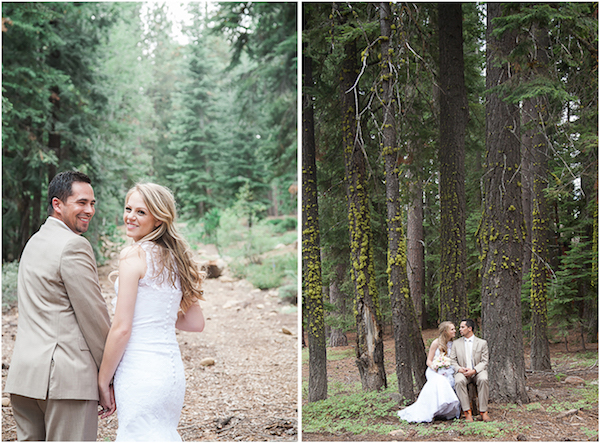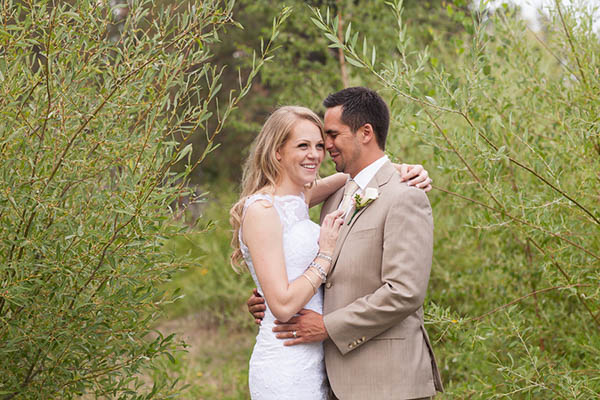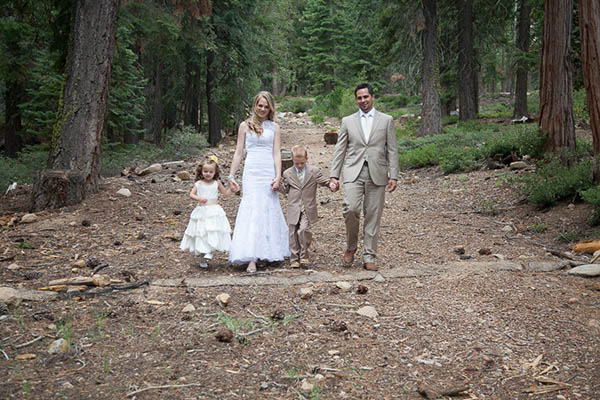 The theme I had in mind throughout the entire planning process was elegant simplicity. I wanted muted, harmonious colors--whites and neutrals to blend in with the beauty of the outdoors; My statements were to be made with a sweet, understated ingenuity--clean lines, simple yet stately floral arrangements and most importantly the luxury of candle-light.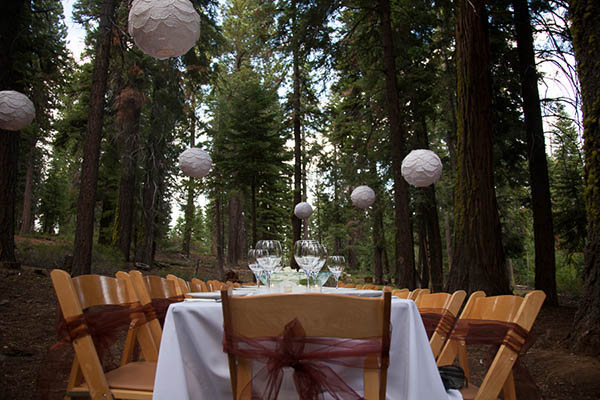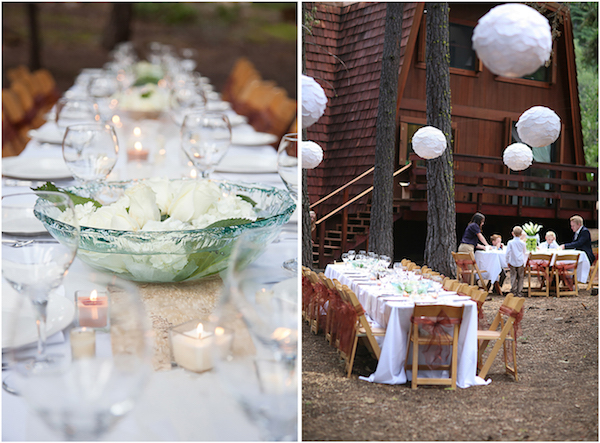 We moved our small congregation back to our cozy cabin in the woods, for a beautiful, forest, candle-lit dinner. The intimacy of our very small guest list was the ideal situation for us. We were able to have the modest group at one long table where we could all enjoy the company of one another.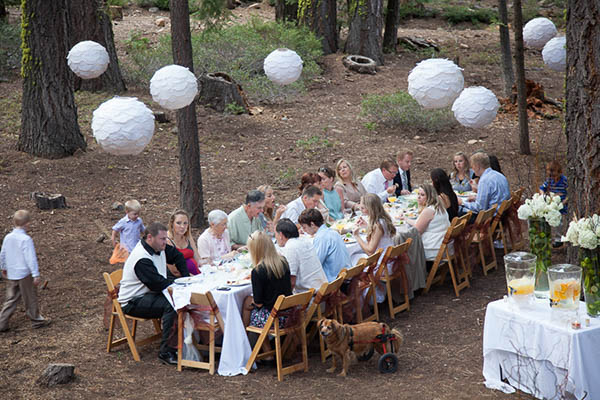 The food was absolutely delectable: a juicy pesto chicken with roasted potatoes and a beautiful side salad. We knew that good food and great company would be the top priority on our list of wants, when it came to our wedding, and we were not in the slightest bit disappointed.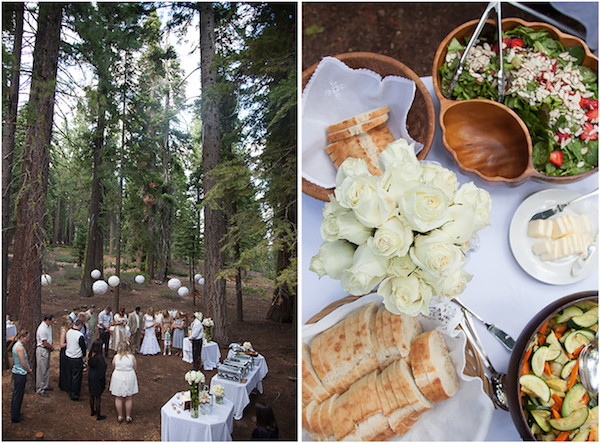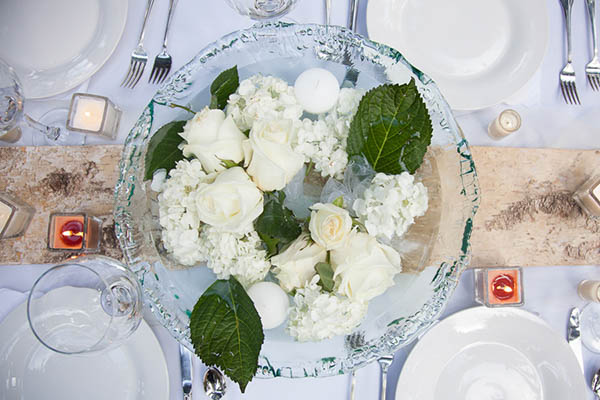 A gorgeous, mild, mango cake was enjoyed by all and Justin and I were allowed our first dance. Words cannot express the way I felt while dancing with my handsome, charming groom. The candlelight, the music (Songbird by Fleetwood Mac) and being surrounded by the people I loved most and the dancing happiness in my husband's eyes made the day beyond my wildest dreams. I could not have asked for more.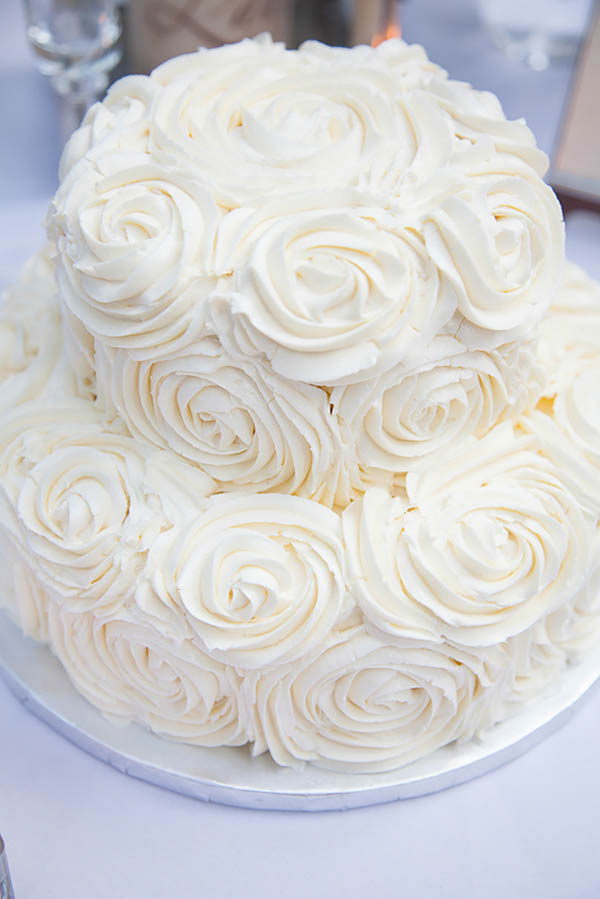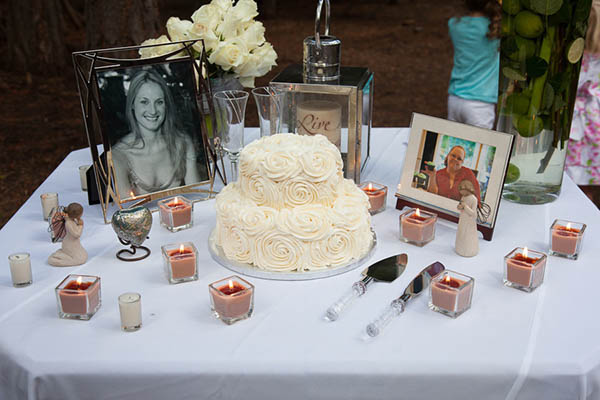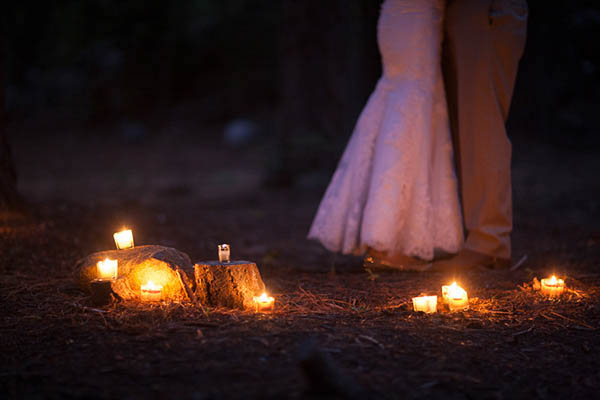 Lake Tahoe Wedding Vendors: Wedding Venue: Private Estate in Lake Tahoe | Photography:
Sara Weir Photo
| Caterer: Justin Carrabello | Cake:
Divine Desserts by Aguirre
| Decor and Floral Design: DIY | Bouquet and Boutonnieres:
Rocklin Florist
| Rentals:
Paradise Party Rentals
| Bridal Make-Up: Kimberly Benny