You've made the first step in ensuring your special day is truly memorable by choosing a Tahoe wedding venue. Now, it's time to seal the deal with a beautifully put-together wedding party. From dress color to silhouette, you can achieve that elegant but eye-catching look you're after, but one way you can't is by making each bridesmaid wear the same dress. Why do matching dresses potentially work against the beauty of your Tahoe wedding? Because every body is different. The key to creating a striking bridal party is to embrace the mismatched look. Some bridesmaids will feel more comfortable with sleeves, others will prefer a body that's loose and flowy. Ultimately, the more at-ease your bridesmaids feel, the happier you'll be, and the better the whole day will turn out. Here are 5 ways your bridal party can nail it on the mismatched front:
Danielle Poff Photography
1. Coordinate just print or color: Leave it up to your bridesmaids to pick the cut that suits their body most, but keep the print or color the same. This way you avoid a chaotic look, but encourage personality.
Beki Young Photography
2. Set a theme: Your bridesmaids dresses don't actually have to match at all in cut or style if you have a theme. Take "vintage," for example; it's virtually impossible to find multiple identical vintage dresses, but if each bridesmaid is wearing a vintage number, the party will look cohesive. Groomsmen can tie the look together by finding a pocket square that matches each of the bridesmaids.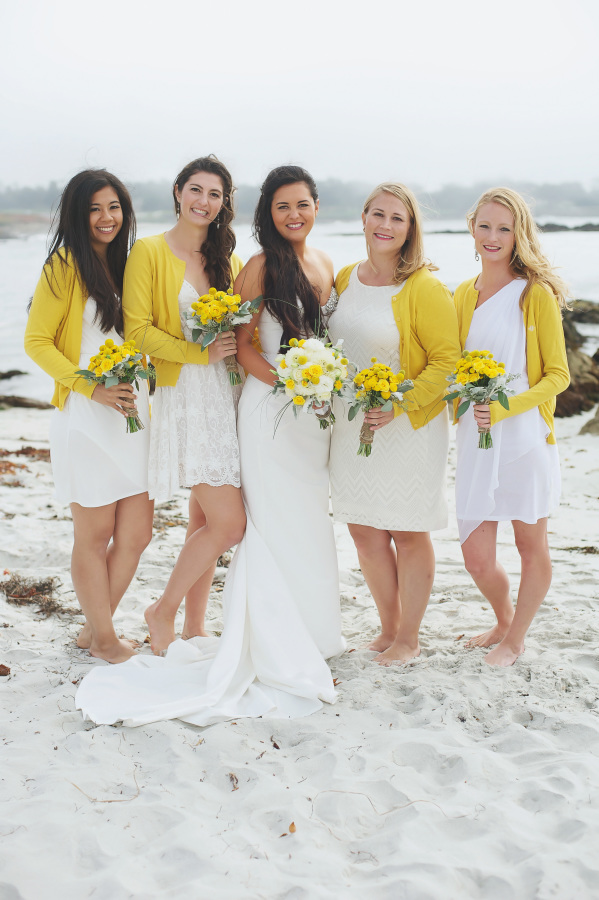 Eliza J. Photography
3. Throw in matching cardigans: Cardigans (with sleeves either above the shoulder for warmer months, or below for colder days) help bring a slew of different bridesmaids dresses together. Bonus: since a Tahoe wedding can get chilly in the evening, your bridesmaids can stay warm while looking the part.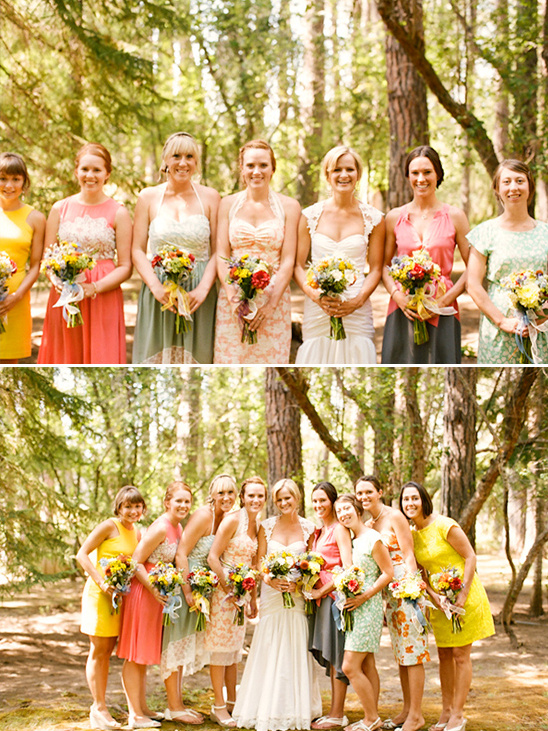 Michelle Cross Photography
4. Coordinate with your bouquet: Encourage your bridesmaids to pick a dress they feel most comfortable in that at least matches one of the flowers in your wedding bouquet. Not only will this add to the uniqueness of your Lake Tahoe wedding, it'll bring the look full-circle.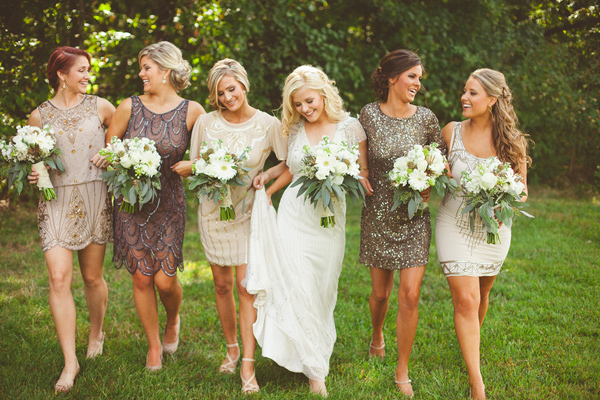 Kelly Maughan Photography
5. Find a common factor: Tell your bridesmaids the vibe you're going for, and then ask them to send you a few dresses that'd boost their confidence. Chance are you'll be able to find a common thread, ensuring all your girls are happy. You can also find a common factor by curating your bridal party look around a design detail, like sequins. In this case, each dress could differ entirely, but have sequins in common.