Most of the time, I'm just as buried under the tulle and tiaras as any girl. But just to change things up a bit, I decided to jump the fence and get some behind-the-scenes info on what our dashing grooms have to say about the big day.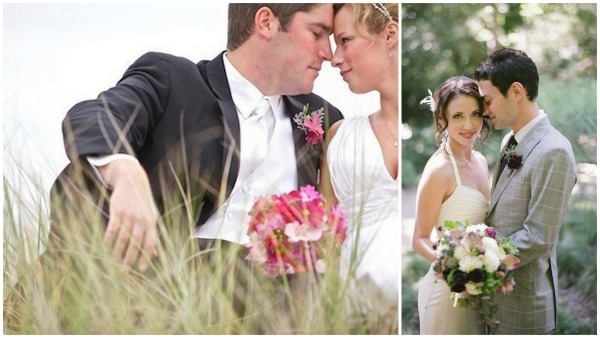 What was the most memorable part of the wedding for you?
LJ from Paradise:
My most memorable part of the wedding was taking pictures outside after the ceremony in the rain. It had stopped briefly and she was absolutely radiant with joy; we were having so much fun. When we went to leave the wedding party, we found that the car had nearly filled with water in the pouring rain. We lifted up the corners of the rug, and with an ice pick, stabbed several "drain" holes through the floor! Off we went, happily ever after.
Alden from

Ventura

:
Watching my bride walk down the isle, of course! The whole wedding was really amazing. We had worked very closely with out pastor to come up with a service that we both loved. Everything about the actual wedding day was amazing!
What is/was your favorite part of the wedding planning?
Nick from

Burney
: My favorite experience during the planning of the wedding has been working with our pastor (who will marry us) during marriage counseling. Registering for knives, pots and pans and BBQ stuff. Picking out the cake people and caterers was awesome too! Nothing like tasty free food!
Alden from

Ventura
: Well I got the plan the honeymoon and that was a kick. Also enjoyed working with my bride to find a good photographer, and figuring out what we wanted to do for the pictures. I really enjoyed that my bride kept me in the loop as to what was going on and being planned.
Brad from

Arcata
: I have enjoyed making things like the save the dates the most. It is fun to see how she and I are different in some ways creatively, and also how we are the same in some ways.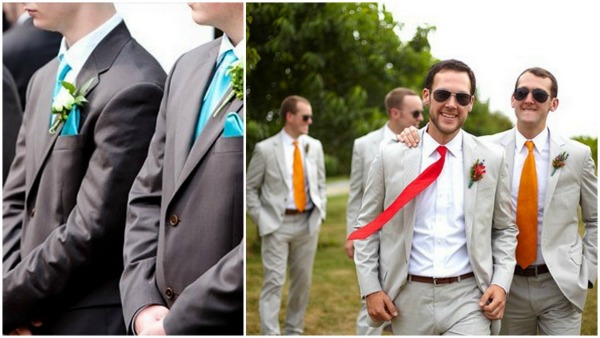 Your least favorite part of the planning?
Nick from

Burney

:
Making the guest list. I definitely have more friends than money.
LJ from Paradise
: Least favorite of the planning process is the week or so before the wedding. No sleep, no food, pay attention, stand here, what about this, how about that. . . The whole process of getting married is/can be quite an affair, and pulling it together takes a lot of love.
Alden from

Ventura
: Figuring out the guest list kinda sucked. She came from a large family, and I came from a small family. Ultimately we ended up dividing the list in a way that worked, but it required compromise on both of our parts. This issue kept coming up again and again. I wish we had dealt with it early on and just let it go.
Brad from

Arcata
: I have not enjoyed any part of the guest planning. I wouldn't even call it planning more like arguing on who is invited and who isn't.
Do you have any advice for other grooms?
Nick from

Burney

:
Don't stress the little things or let the planning get to you. It might be intense during the guest list cuts and when she's choosing colors, dresses and bridesmaids but those things will get settled and it's back to being about you and her. Smile, hold her and comfort her, she

isn't

looking for a fight just some reassurance it will all come together on the big day.
LJ from Paradise:
Say little, do lots!
Alden from

Ventura
: Don't elope! I love having a day that was our special day where our family and friends came together and celebrated our union. Also, make careful choices about the hills you want to die on. There will be conflict with the future-wife, with the

inlaws

and with your family. Weigh the importance; stand up for the things that are really important, and let the little stuff slide.
Brad from Arcata
: The best advice I could give came from my grandpa and that is saying "Yes, my love."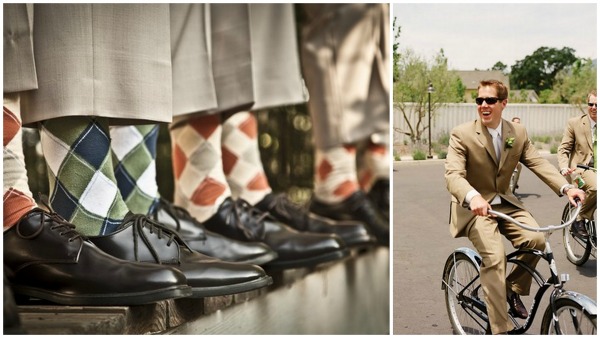 In a bride's world, how do you find a way to put your personality into the wedding?
Nick from

Burney

:
I just asked for a few things for the wedding that

didn't

steal the show or act as main focal points but were "me." I also chose the best man so you know that guy will at least say something about my personality in the traditional "awkward best man speech."
LJ from Paradise:
Personally, I would like to think that little of the grooms "personality" should show during the actual wedding; this is the bride's show. In order to draw little attention, a tuxedo is intentionally black with few adornments,. This is so as not to distract from the beautiful woman and her dress. However, I think it is reasonably safe to offer infrequent, cautiously worded helpful suggestions when asked about wedding planning.
Alden from

Ventura
: In a bride's world, you can get your personality in the wedding by marrying a girl you can trust and who loves you. It sounds cheesy to say that, but you should be marrying someone you can share something like that, and trust that you will be heard and she will do what she can to make that a priority.
Brad from

Arcata

:
I think the best way to put my personality into the wedding would be to choose colors that I feel represent me and the lady well. Another great way to personalize the wedding comes from the food served at the wedding; we are both pretty goofy so the food definitely reflects that.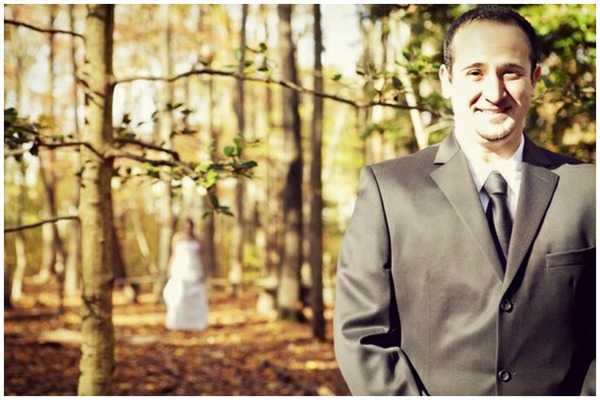 What were your thoughts when you saw your bride for the first time?
LJ from Paradise:
It seemed so very easy to marry because we knew it was the right thing to do. My beautiful friend, the most wonderful creature God ever made was about to be MY bride. Could this possibly be so (and to this day, 34 years later)? All the faces and background seemed to fade away for a bit and she is coming down the aisle, radiant in her smile for me. I am a bit shocked by her beauty and vitality, but she steps forward, takes my hand, and it is just the two of us. Becoming one.
Alden from

Ventura
: "WOW!" Was the first thing I thought. My bride looked like the most beautiful woman I had ever seen, and I was just in shock that she was dressed up in white for our wedding. I couldn't believe that it was our wedding, and I couldn't believe how lucky I was. Everything else just seemed to fade away for the moment.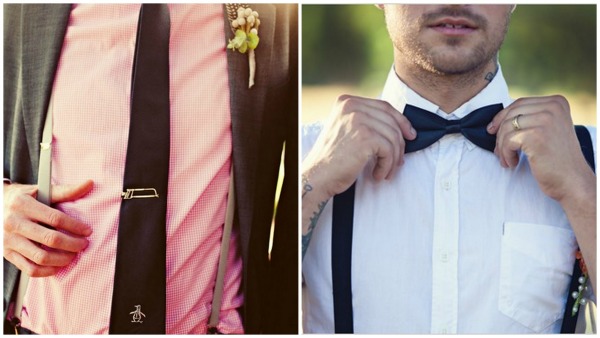 Tie or

bowtie

? Tux or tails?
Nick from Burney:
Definitely tie. It's classy, timeless and slimming… I need all the slimming I can get. Tux, my groomsmen watch too many James Bond films and think they can play the "007 secret agent angle" with the bridesmaids and better not with my cousins.
Dave from

Menifee

:
Tie. Tux.
LJ from Paradise
: Yawn! Old School. A black tuxedo with tails (do I need to tell you to shine your shoes?), white shirt with French cuff and studs, braces, cummerbund or vest (to match wedding colors, black is optimal) and matching bow tie. Hand tied "bows" look the best, but wrap around work fine. Some Tux shirts have a loop on the back of the neck for these. Neatly folded pocket kerchief is encouraged along with small flower. I suppose that for those guests who just refuse to buy a Tux, a sport coat and tie are appropriate if done subtly. Outdoor weddings can be fun with

kakis

and IRONED Hawaii shirt. Always dress "just down" from the lady to let her shine.
Brad from Arcata
: Definitely tie;

bowties

are just too goofy for me. Very casual for the dress: vest, tie, shirt and slacks.
Alden from Ventura
: I went with the tie and tux... but its really up to each couple. There isn't a "right answer" with things like this. I let her choose ;) First Row:
M Three Studio
via
Middle of the Map Weddings
|
Corbin

Gurkin

Photography
via
Style Me Pretty
Second Row:
5ive15ifteen

Photocompany
via
Wed Loft
|
Patricia

Kantzos

Photography
via
Colors of Honey
Third Row:
Claudia

McDade

Photography
via
I D

o Inspirations
|
Meg Smith Photography
via
Martha Stewart Weddings
Fourth Row:
Lauren Piper
via
Glamour and Grace
Fifth Row:
Katherine O'Brien Photography
via
Sposenonconvenzionali

With her heart in Paris and her feet in the sand, Laurie is a part-time pizza lover and full-time blogger-tutor-editor-

fashionista

who still believes in

fairytales

and happy endings.