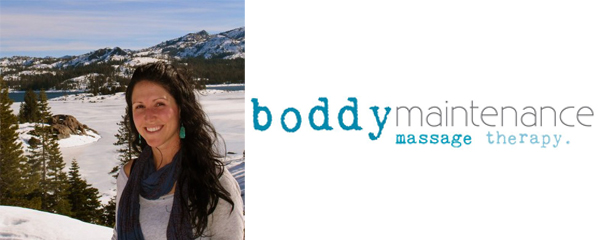 Mary-Kate, of
Boddy Maintenance
, is Tahoe Unveiled's resident massage therapist. We really don't know where we, or our Tahoe brides, would be without her—probably laying on a couch somewhere with sore, tight muscles. Being an athlete and adventurer at heart, Mary-Kate understands the body's basic physical need to recover and relax. Today, she is sharing all her tips so you can be sore-free and stress-free on your big day!
When should the bride and groom have their massages?
Ideally, 2 or 3 days before the wedding or the day before if you don't have too much to do. Your time during a massage not only helps you to relax your mind and take time to yourself, but it allows you to really focus on the present. The week of your wedding can feel like a blur in some ways with all that's happening, so it's really nice to have an hour or hour and a half to just focus on RIGHT NOW.
Is there a specific style of massage you suggest? Maybe one that is beneficial for emotional stress or pressure?
I wouldn't say there's a specific style that would be better than the other. For each session I work with the client to discover his/her needs. If you want a more relaxing style massage I can provide that, or if you're feeling really tense and need some relief to those muscles, I can provide deeper work if that's what you're looking for. The goal is for the client to achieve what they intend to get out of the massage and we work together to accomplish that. As long as you're feeling relaxed, you will be able to experience some relief from emotional stress. As the therapist, I will work with you to achieve the most relaxing session to meet your needs.
Is there any body maintenance you recommend before the wedding?
Always a nice idea to do some stretching the day of your wedding to release any tension you may be holding. It will also help you to connect your mind with your body on a day you'll remember for the rest of your life.
Do you have any pre-wedding packages? Any specials or packages for the wedding party?
It is a great idea to get the wedding party involved in massages! For groups larger than three, I'm happy to provide a discount per massage and wedding specific packages.
Mary-Kate services the Lake Tahoe-Truckee area and offers the following services: Swedish massage, deep tissue, Thai yoga, craniosacral therapy, and cupping.
Boddy Maintenance 530.580.8384
www.boddymaintenance.com