The fall and winter in Tahoe are COLD and jackets are a must, so I've gathered my favorite cold season cover-ups: the moto jacket and the jean jacket. I like these options because they're edgier than more traditional items, they are customizable, and they can be worn in your everyday life - win, win, WIN!
I know what you're thinking - these jackets aren't bridal at all. And you may have a point, they are not traditional, but that doesn't mean they can't be romantic and that you can't pull them off for your big day. Stay with me here for some inspiration and tips on how to pull off these jackets.
My favorite applications of these jackets were when the bride matched her hubby or bridesmaids in the jackets. Besides amazing wedding photos, a bridal party all adorned in leather pulled together everything.
Customizing the jackets with details from the wedding really adds personality to the look. A lot of brides added their new last names, date of the wedding, or a saying like "just married". The best ones were, again, the ones that corresponded to the hubby's or bridesmaid's jackets.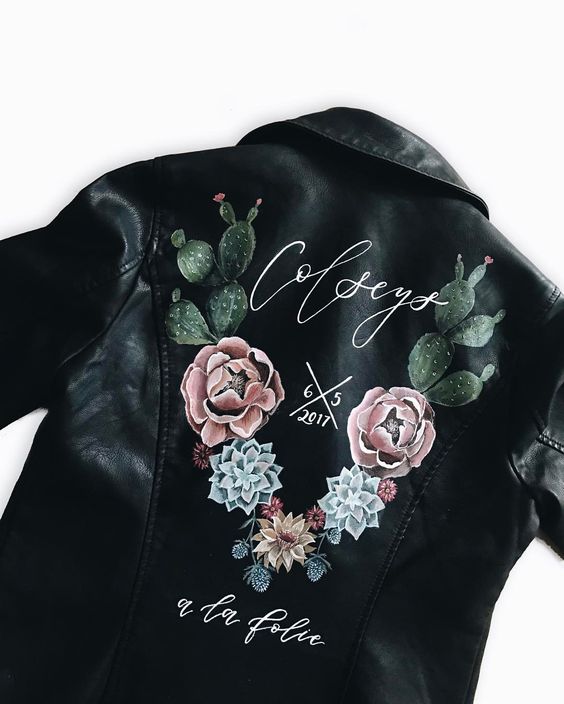 Play with different colors and different cuts. If black leather isn't your jam, try white or brown instead. That's the beauty with both materials - they can come in whatever shade or fade you want. I personally cannot get the thought of a burgundy moto jacket with pink and white embroidered flowers out of my mind. These jackets should feel comfortable and easy, so make sure the length is right for you (and your dress), that the sleeves aren't too tight or too short, and that the lapels don't distract or irritate you.
These jackets add an element of badass boho to your attire, so make sure that whatever you choose, you're completely comfortable in it! You would never want to look like the jacket is wearing or overpowering you. Just have fun with it!