During Tahoe Unveiled's A Day in the Mountains event, guest speaker,
Scott Corridan
educated our lovely brides on how to find the perfect wedding dress. Every girl has areas on her body that she dislikes...so Scott selected three ladies, each with very different shapes and heights and demonstrated how a particular dress can accentuate one's assets while diminishing the appearance of the less appealing areas. Below, we have our lovely models wearing
Swoon Bridal Salon's
dresses,
Aiko Designs
jewelry,
Cortney Knudson Hair Design
up do's, and
Kiss and Makeup
makeovers.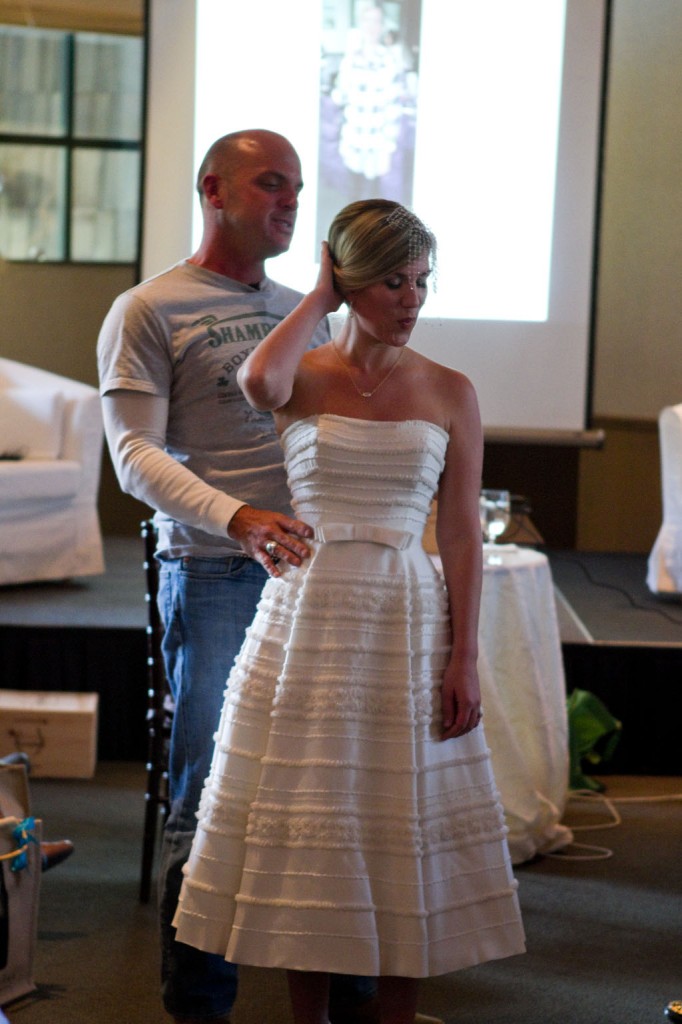 A gown for a petite bride... 5'4" or smaller... is best considered when planning on building height. In this case, Jennifer is shown in an A-line, vintage inspired gown, that stops just below the knee. The dress pulls in tightly to a very defined V shape at her waist elongating her torso and providing more visual height. The horizontal element of the fringing details give her otherwise petite little frame some greater presence.
A gown for a full figured bride... and full figures DOES NOT mean overweight... it just means fuller figured - bigger bones, bigger breasts, bigger waistline, bigger butt... and all gorgeous on Jen here in this Marilyn Monroe inspired, very simply detailed buxom gown. The reverse gather pleating at the waistline allows for more fabric to bundle, which combined with the very fitted corset torso gives Jen a classic waistline and accentuates her fuller hips. The push up of the corset accentuates the fullness of her breasts. This dress for Jen's figure would be best finished with attached capsleeves or subtle gathers falling off the shoulder.
Many women these days are very fit - with pilates, yoga, step and weight lifting... as such many women's figures are taking on a boxier form as they become more toned and firmed up. Here you see a classic strapless sweetheart gown finished with a slightly higher waistline just shy of an empire line to allow for Andrea's sporty figure to have a very defined focal point right at the bustline. The stitching and lace detailing of the gown done in small patterning and a subtle tone on tone variation provide for a visual diversion and provide a softness that her toned body otherwise might lack. The traditional elegance is a nice counterpoint to the modern lifestyle lead by this model. Thanks
Scott
for the very helpful tips!