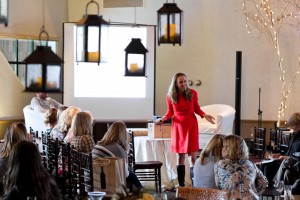 In between the sipping on champagne, noshing on appetizers, and meeting with highly reputable vendors at Tahoe Unveiled's A Day in the Mountains, our brides learned quite a few very valuable lessons. Last week we posted a few highlights from
Scott Corridan's presentation
... this week we'd like to share a few highlights from
Catherine Hall Studios'
presentation. Catherine taught our guests 
what not to do prior to and during their wedding day
during her presentation titled, "How to Craft Utterly Elegant, Wholly Exquisite Images of Your Wedding Day." Catherine is a very endearing person. She instantly makes you feel like you have known her for decades. After showing the audience an imepecable slideshow of her work, she woo'd the audience with her humor and opened her book on how she produces such amazing, tear jerking, and flawless photography. Here are just a few of the many lessons she taught us:
Q: Why do I need to spend money on my wedding dress? I'm only going to wear it for ONE day?
This dress will appear in your wedding photos for the rest of your life. So, in a sense, you wear it forever!
Q:Why do I need to hire a wedding coordinator?
Sometimes it can be tough to understand why you may need a coordinator, especially since this is a service and not a product that you can see and touch. However, if you would like to enjoy your wedding day, it is imperative! Catherine showed us a great combination of images to explain her answer to this question. I found it quite funny, as these images were from one of our (One Fine Day's) weddings!
Image # 1
- The bride throwing her head back laughing, relaxing, and enjoying her wedding dinner
Image # 2
- The wedding planner and 3 assistants clinging onto a cabana during an incredible wind storm. This image was captured at the same time as image #1...but outside and down the stairs from the dinner location. The cabana, which took months of planning and hours of constructing by Bellissima Floral, risked being torn to pieces by Mother Nature's wind currents.
Image # 3
- A heavenly picture of the cabana in place, the candles lit, and a lovely peaceful setting for guests to enjoy. This is what the cabana looked like when the guests finished dinner and were ready to enjoy the party. They had no idea there was an ounce of chaos. Catherine's question to the audience was, "What would you as the bride have done in this situation if you didn't have a coordinator? Who would be standing on each post holding the structure together during dinner service? You spent the last 9 months planning out every detail and then mother nature roles in and screws with your perfect plans. If you and your guests are enjoying the festivities, who takes care of the behind the scenes issues?"
I am going to have a strapless dress!
Why is this a bad wish and need? Because not every body suits a strapless dress. Listen to your shapes, curves, and your girlfriends...purchase the dress that suits your shape, your figure, and makes you feel absolutely stunning! The image above shows a bride in a dress that fits her too perfection.
Plan for the "Golden Hour"
The "Golden Hour" is the time when the sun is setting and everyone looks amazing on camera! It is really important allow time for a few photos of you and your new hubby during this period....you'll thank your photographer later!
Touch base with your photographer prior to planning a ceremony time!
The sun, especially in Tahoe, in the middle of the day is strong and can be quite harsh on your faces, making for not so attractive photos. This is one of the most important elements of your celebration, you want to be glowing....not squinting or overshadowed by the sun. Thank you Catherine for sharing your words of wisdom!