We picked the brain of our favorite expert hair stylist, Kori Walker of
Kolor by Kori
for her all time best tips and tricks for perfect wedding day hair that
lasts
! Read on to find out the best way to keep your hair looking perfect and dance-proof!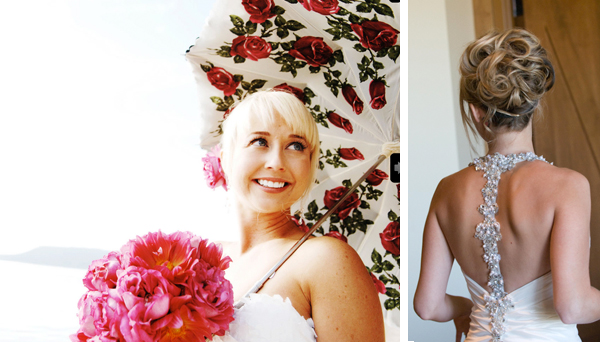 What are some tips for keeping hair looking fabulous all day and night?
The best ways to keep your hair looking fabulous all night is to make sure that the proper products are used in the styling process, starting with the blow-dry. Layering in the proper products such as an anti-humidity product, a blow dry serum to ensure long lasting structure, hair powder sprayed throughout the dried hair which gives it a non slip texture, and then finish it off with a strong hold/high shine finish spray and you've got a style that will last!
If your hair and makeup are finished super early in the day, what are some styles that will really hold?
If you have an early start, up-dos are always a great option for a long lasting hair style, but you should be able to have a down style last for a whole day and night as well, as long as you have a "good set" done using the right products to help the style hold!
What are some low maintenance styles that look amazing?
Some low maintenance styles that always look amazing are "chignons", which are soft, romantic, and slightly tousled up-dos that are either placed off to the side, or in the middle of the back of your head or in the nape of your neck.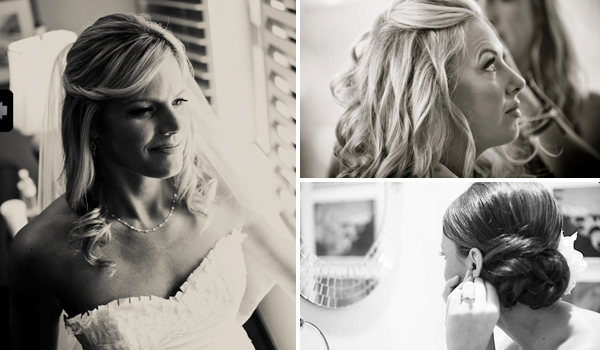 What should a bride do to prepare in advance, a month & also the night before the big day?
A bride should definitely do some research well in advance to find a stylist that comes recommended from other vendors or other sites and find someone who can accommodate their style. A trial run before the wedding (a few days, weeks, a month, or a few months max) is a great way to see your vision come to life. I highly recommend a trial run so that you and your stylist are on the exact same page, and it will give you complete peace of mind. Then there will not be an ounce of stress about your hair on the wedding day! A common old wives tale is that dirty hair styles better, but now that we have products like hair powder, you can choose to wash you hair the morning of your wedding (if you prefer), and the powder will give us the texture that we need to have your hair style last!

*All designs and bride styles created by Kolor by Kori
How much time should you set aside for hair when considering the schedule for the day?
How much time you set aside on the wedding day depends on how many ladies will be getting their hair styled, and if you will have more than one stylist working the wedding party. Up-dos are typically a little quicker to style than down styles, I average 2-3 hairstyles per hour and allow about 45 minutes for the brides' hair which includes her blow-dry and set up. *Thanks for all the great tips Kori; to see more of Kori's work visit her
website
!