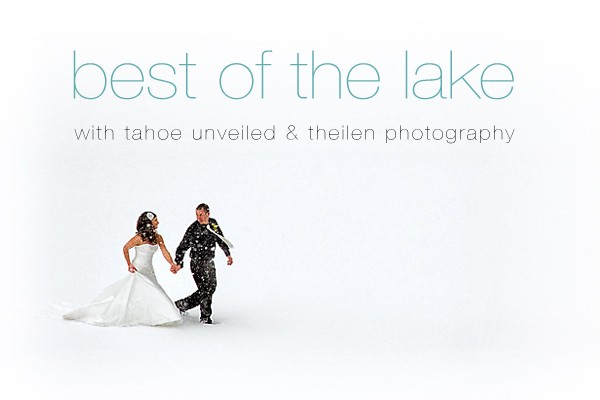 PHOTOGRAPHERS, have you entered our Lake Tahoe wedding photo contest yet? NO? Well you still have until this Monday, June 17th to enter. Winners will be prominently displayed as part of our Best of Lake Tahoe Photo Collection on Tahoe Unveiled's website and blog, with a link to the photographers website. Your photos will be part of our marketing campaign to promote Lake Tahoe as a world class wedding destination. Get on it now while we are still accepting entries! Email your 5 best Lake Tahoe wedding photos to
[email protected]
.
Submissions
| Please email your most creative and gorgeous wedding photos to
[email protected]
with the subject "Lake Tahoe Wedding Photos". Please label your photos with a keyword and a number so your photos are kept anonymous from the judges.
Image Sizes
| Please send up to 5 .jpg images that are 600 pixels on their longest side, without watermarks. Images can be placed in a .zip file that is no larger than 10MB.
Processing
| 5 photos per photographer may be submitted for free, or a processing fee of $5 per photograph will be charged for submissions of 6 – 15 images. Please let us know if you would like to submit more than 5 images and we will send you a google checkout.
Eligibility
| Open to everyone, 18 years of age or older at date of entry. Photographs should be from a real wedding that took place in Lake Tahoe who are your clients. (No engagement photos, photos of models, or images from styled shoots, workshops or commercial shoots, please. If you have questions about eligibility, please read our Official Rules or write to
[email protected]
for more clarification).
Deadline
| Photos will be accepted from 12:01 am Pacific Time, Monday, May 20th, 2013, until 11:59 pm Pacific Time on Monday, June 17th, 2013.
Prize / Exposure
| If your photo/s are chosen you will receive a winner's badge to display on your website or blog, your copyright—including your name and business name—will be prominently displayed as part of our Best of Lake Tahoe Photo Collection on Tahoe Unveiled's website and blog, with a link to the photographers website or blog. Your photos will be part of our marketing campaign to promote Lake Tahoe as a world class wedding destination.
Notification
| Winners will be determined by Friday, June 21st and notified by Monday, June 24th. Winners will be notified through the email address provided in their submission form and will be asked to approve the caption to be shown in our Best of Lake Tahoe Weddings Photo Collection.
Disclaimer
| By submitting any photographs to Tahoe Unveiled and entering the contest, you agree that Tahoe Unveiled has the perpetual right to publish the Photographs on its websites and its affiliated web-based social media outlets. Tahoe Unveiled will credit you by name and/or company if it publishes your Photographs. Photo:
Theilen Photography