As a bonafide makeup junkie, I am so excited to bring you all this post! After browsing through hundreds of wedding pictures over the last few months, I really wanted to get a better idea of what made these brides so exceptionally beautiful in their photos. Luckily, the lovely and oh-so-talented makeup artist
Kari Addison
offered up her expert advice, tips, and tricks for the perfect wedding day "wow" factor!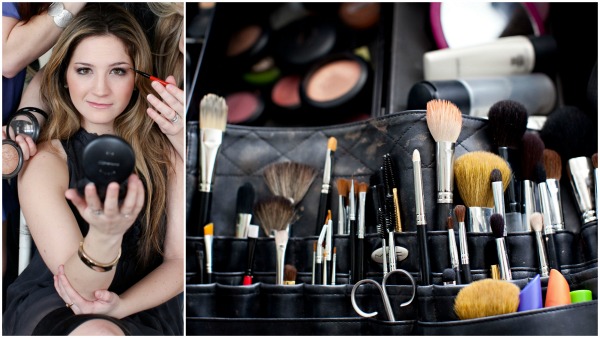 Images courtesy of Courtney Aaron Photography
As a makeup artist, you must have some go-to products specifically for brides. Whatís in your bag?
I am known for applying my favorite pink/peach lip & cheek colors by MAC! Bronzer, highlighting products and concealer for sure! My two favorite shadows colors are from MAC - Copperplate & Shadowy Lady! Crease color, under eye shading, and for a liner. Also, 99.99% of my brides wear lashes. I might have something to do with this! They never regret it.
Do you have any pre-wedding skin prep advice?
Our best make-up style is prepped with hydrated skin! But to totally throw you for a loop, we leave off the sunscreen the day of your wedding. This is definitely up for debate but it works best for me. We ask our brides to load on the eye cream, night cream every night on the week leading up to the wedding, and of course, drink tons of water. Exfoliate the night before so we get fresh, glowing skin. If you get a blemish, donít pick! Scabs are so hard to cover up, but a blemish -- piece of cake!
Email us
for our skin prep guide! We cover tanning, sun spots, and more.
What is the one thing brides should avoid?
I canít tell you to avoid alcohol - I love me some wine! But, if you must drink at your rehearsal, please drink a glass of water after every alcoholic beverage. I also canít tell you to avoid airbrush tanning, but I would like you to try a pro out at least a month prior to your wedding. Then if you like the look, schedule another four to seven days before. A little color is nice but too much, you might not like the look in your professional images. I am a fan of looks that are timeless and classic. If you normally tan, by all means, tan.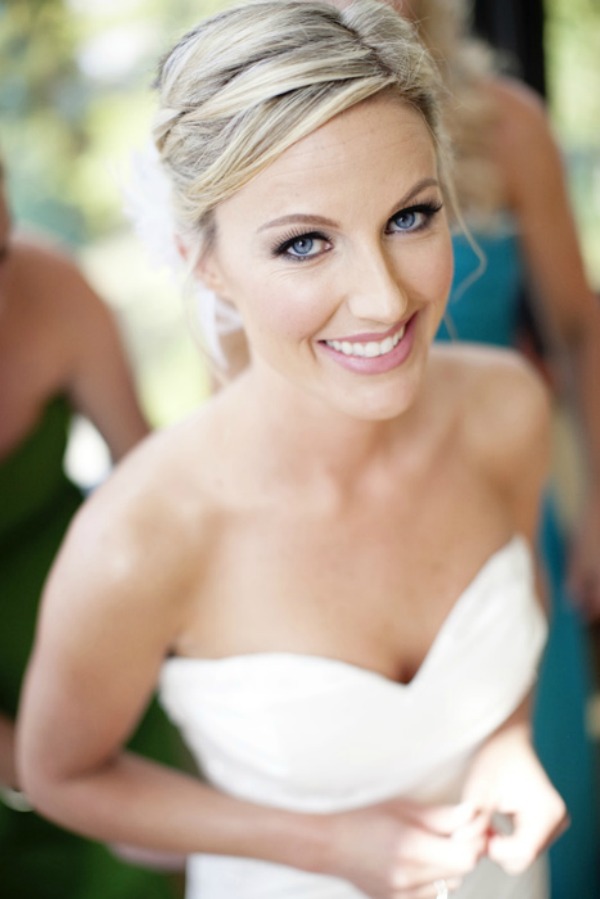 Photo courtesy of Eden Rose Photography
Out of all the different bridal looks youíve seen, is there one that stands out in your mind?
No, but I do get a lot of requests of one in particular from my website (the look pictured above). Itís funny too, because she is one of my best friends who absolutely trusted me to do what I envisioned for her. Her lips were this beautiful pink color, which happens to be my favorite! When I show my soon-to-be brides these richer or brighter shades, they get nervous. What you need to remember is that you will be in white, and you will have your hair styled. You will have gorgeous jewels on and you need to where a color that not only compliments you, but, also one that will present itself nicely in your images. This isnít your everyday look. This is a special day look. Youíre not going to wear a sundress to your wedding so why are you just going to wear chapstick? I have the right color for everybody - I just want you to try some shades that you might not normally consider and we will find the right one for you, even if itís a natural look.
What if there is weather? What should brides who are having outdoor weddings take into consideration?
Must prepped and finished with primer and finishing spray. Keep the blot film close if you are dealing with heat. Blot film absorbs oil and doesn't keep adding on make-up like powder. If you will be doing your photos hours before the ceremony, especially in wet weather or the heat, I would highly recommend keeping your artist around to refreshen your make-up before and after the ceremony. We offer this service and we also can change your look to an evening look! Or we can just change your lip color to something a little more dramatic for your reception.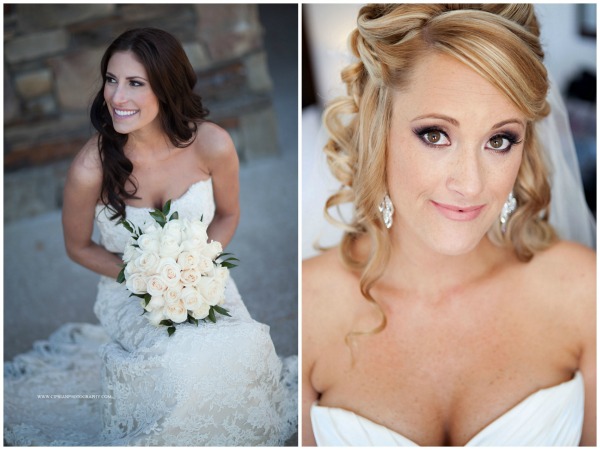 Photos courtesy of Ciprian Photography & Melissa Vossler Photography
What is the most important aspect of bridal makeup?
Besides hydrated skin? Please get your eyebrows professionally groomed! Help us help you. Even if you are looking for a ďnatural look,Ē that is key. Also, at some point you hired a specific artist for their artistry (I hope), trust them to perform their artistry. We are at our best when trusted.
What should brides be asking professional make-up artists before they hire one for their wedding day?
Itís so important to ask professional make-up artists how they keep their kits clean. Are they taking the proper steps to keep their tools and products safe, clean and not cross contaminating? They should be washing their brushes before every wedding group, sanitizing them after every face with cleaner and keeping their tools wiped down with alcohol (like lash curlers, spatulas, petri dishes, etcÖ) Lipstick, liners and any other cream bases should be wiped down with alcohol, and pencils sharpened every time. I am not too concerned with artists using their fingers for blending on the face and hands as a palette as long as they wash their hands first. I would also make sure that you will be getting a contract. It protects the both of you! I would be very nervous if your artist doesnít have a contract to ensure service for your wedding date.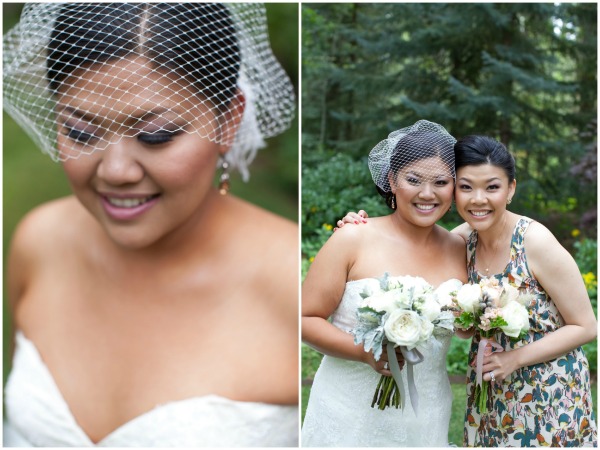 Photo courtesy of Emily Dawn Photography
Whatís the best way to ensure that makeup stays fresh and gorgeous throughout the entire day?
Hire your artist to stay until cocktail hour, possibly dinner. Have you noticed on the American Idol auditions Jennifer Lopez was constantly getting touched up between takes? This is the for sure best way to stay fresh, but donít worry: if you are unable to add this service, we have some suggestions. You can always pick a bridesmaid to help touch you up throughout the night. Keep your cheek, lip color, concealor and blot film with her for touch ups. Chapstick, make-up remover wipes, and loose powder are nice to have on hand, too, in case you need clean up a little from weather or heat. Not sure how to touch up with these products? We can show you! We can absolutely take a bridesmaid aside and give her a quick mini lesson. With ALL of our make-up services, we include prep, prime, and finishing spray. We know you need to get through six to eight hours, and we take the steps necessary to create lasting power!